RED OAK, Iowa – U.S. Senator Joni Ernst (R-IA), a member of the Senate Small Business Committee, spent the day on the phone participating in four different question-and-answer sessions with Iowans and small business owners from across the state. On the calls, the senator answered questions from Iowans about the COVID-19 pandemic federal relief packages she helped deliver over the last few weeks, including the Paycheck Protection Program.
The senator was on the phone answering questions from members of the Cedar Valley Coalition, the Iowa City Business Partnership, the International Franchise Association (IFA), and the Iowa Association of Business and Industry (ABI).
"There's no question these are uncertain and challenging times for Iowa families and our small businesses who make up the backbone of our state's economy, which is why I'm continuing to listen and answer questions from folks across the state," said Senator Ernst. "I want to make sure our local businesses and workers understand and utilize the critical resources available to them and that all Iowans know my staff and I are here to help. Yes, these are challenging times, but we will get through this – together."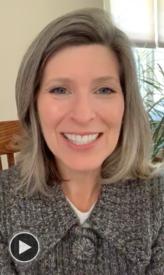 Click here or on the image above for a video message from Senator Ernst.
Cedar Valley Coalition Administrator Steve Firman said, "On behalf of the members of the Cedar Valley Coalition, we greatly appreciate Senator Ernst for taking the time to answer questions and listen to some of our thoughts regarding ways to ensure our small businesses continue to succeed through these challenging times. We thank her for her leadership and for being a voice for our community and local businesses."
IFA President and CEO Robert Cresanti said, "Senator Ernst is a consistent champion for Iowa small businesses and their employees. Today, she didn't just provide an update to Iowa small business owners from across the state, she listened to their concerns and worked to find solutions. In these unsettled times, voices like hers are a tremendous benefit to small business owners in Iowa and across the country."
ABI President Mike Ralston said, "ABI and our members are thankful for Senator Ernst's leadership and her strong support of the business community throughout her time in the Senate. As Iowa businesses work through these trying times, we're grateful for her time to speak with and listen to Iowa's employers regarding the federal solutions to COVID-19. This is an important call, as ABI member employers will be key in leading the economic recovery in Iowa."
As a member of the Senate Small Business Committee, Ernst fought hard to ensure small businesses were a priority in the Phase 3 relief package. Highlighted below are a number of the emergency relief measures Ernst successfully included in the bipartisan Phase 3 package that help support Iowa's small businesses:
Protecting workers and small businesses by allowing local banks and credit unions to provide federally-backed loans for small businesses to keep their employees on payroll and to pay bills; loans can be forgiven if they maintain payroll.
Expanding loan access to child care providers, non-profits, and businesses with less than 500 employees.
Background on Ernst's efforts to combat COVID-19:
Senator Ernst has fought to deliver relief to all Iowans during the COVID-19 pandemic. Here are some of her efforts:
For additional information for Iowans on COVID-19, you can visit Senator Ernst's website, which includes resources for families and individuals, small businesses, and seniors.
###