Families and Individuals
For Iowans with questions about COVID-19, a public hotline is available 24/7: just call 2-1-1.
The Centers for Disease Control (CDC), in conjunction with the White House Coronavirus Task Force, has worked hard to ensure the American public is informed. Folks should continue to visit the CDC's website for information and updates relating to the coronavirus, including:
While some of the younger and healthier folks in Iowa might feel like they don't need to take these recommendations seriously, they absolutely should. Everyone—no matter your age or health—can carry the virus and inadvertently help spread it.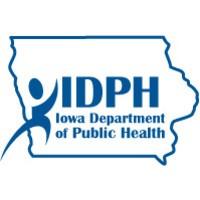 The Iowa Department of Public Health (IDPH) is providing updated information regarding the outbreak in our state. To visit their website, click here.
Taking calm, commonsense steps to limit the spread is the least we can do to help ensure that our loved ones live their lives fully and that we address this virus as best we can. We will all play an important role in keeping Iowa healthy and in preventing this virus from spreading. Let's all take this seriously and each do our part to look out for one another.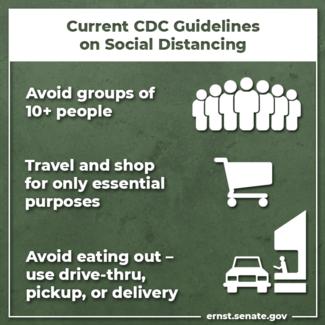 Relief Payments
The CARES Act will provide direct payments to most Iowa households. Known as 2020 Recovery Rebate payments, most Iowans will receive $1,200 subject to income limitations, plus an additional $500 for each child under the age of 17.
Click here for a list of frequently asked questions about who is eligible and how the funding will be received.
Household Utility Disruption Assistance
Iowa Governor Kim Reynolds and the Iowa Economic Development Authority launched the Residential Utility Disruption Prevention Program to assist Iowans who are unable to cover the cost of household utilities as a result of lost income due to COVID-19. Eligible households will be provided up to $2,000 towards electric, natural gas and water bills. For more information, and to apply, click here.
Students and Recent Graduates
On March 13, 2020, the president announced that interest would be waived on all federally held student loans. Interest will not accrue on federally held student loans for at least 60 days, beginning on March 13, 2020. ED may extend that period, depending on the status of the COVID-19 national emergency.
All loans owned by the U.S. Department of Education (ED) will have interest waived. That includes Direct Loans, as well as Federal Perkins Loans and Federal Family Education Loan (FFEL) Program loans held by ED.
As of March 20, 2020 you can now suspend payments on federal student loans. You must ask for an administrative forbearance. Being in an administrative forbearance means that you can temporarily stop making your federal student loan payments without becoming delinquent.
If you want to request an administrative forbearance, you should request one by contacting your loan servicer. If you do not know who your servicer is or how to contact them, visit StudentAid.gov/login or call us at 1-800-4-FED-AID (1-800-433-3243; TTY for the deaf or hearing-impaired 1-800-730-8913) for assistance.'
Please visit Federal Student Aid's website for more Coronavirus and Forbearance Info for Students, Borrowers, and Parents.
**Note: This does not apply for private student loans**
More on COVID-19
December
2020
November
2020
October
2020
September
2020
August
2020