WASHINGTON – U.S. Senator Joni Ernst (R-IA) continues to hear from Iowans from every corner of the state as she fights to deliver additional immediate relief during the COVID-19 pandemic. Senator Ernst held another telephone town hall focused on seniors in Iowa and was joined on the call by the state director of AARP Iowa, Brad Anderson, and the dean of the Carver College of Medicine at the University of Iowa, Dr. Brooks Jackson. This is the second telephone town hall Ernst has hosted within a week.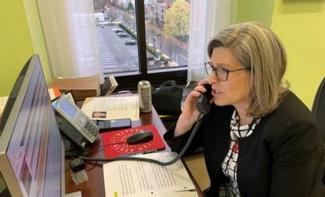 "During these challenge times, town halls look a little different – we're hosting them via telephone. But it's still a tremendous opportunity for me to connect with my fellow Iowans and hear directly from folks across the state about their concerns and needs during COVID-19," said Senator Ernst. "As we work through this pandemic, I'm continuing to make Iowans' voices known and to fight to ensure they're getting the relief they need in the most efficient and effective way. Iowans are resilient; together, we will get through this. Stay safe and stay strong."
In addition to these telephone town halls, Ernst has been on the phone with Iowans from all sectors of the economy – including small business owners, health care workers, and so many more – to bring their concerns and needs to the Senate and ensure they are being addressed through the relief packages Congress has worked through.
Background on Ernst's efforts to combat COVID-19:
Senator Ernst has fought to deliver relief to all Iowans during the COVID-19 pandemic. Here are some of her efforts during this challenging time:
For additional information for Iowans on COVID-19, you can visit Senator Ernst's website, which includes resources for families and individuals, small businesses, and seniors.
###