WASHINGTON – U.S. Senator Joni Ernst (R-IA), a mom and champion for child care, joined a virtual town hall hosted by the Child Care Resource and Referral of Northeast Iowa today to hear directly from a number of Iowa's child care providers and to provide an update on her efforts to address Iowa's child care crisis.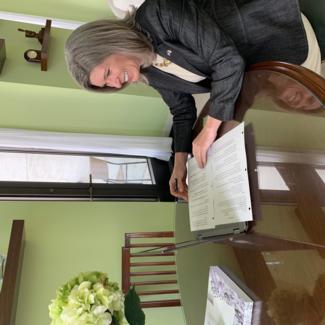 "Even before COVID-19, Iowa was facing a child care crisis. As a mom and having spoken to so many of Iowa's families and child care providers, I've made addressing this a top priority and have continued to work across the aisle to ensure Iowans have access to quality, affordable child care," said Senator Ernst. 
"Today's town hall was another great opportunity for me to connect with Iowans and hear directly from our providers about the challenges they faced before and now face during this pandemic. Whether it's more assistance through a future COVID-19 package or allowing these essential workers to keep more of their hard-earned dollars, I'm committed to fighting for Iowa's child care community. As we safely get back to work, it's critical we ensure Iowa's moms and dads have access to child care and providers have the support they need to care for our kiddos."
"Our Child Care Community has an important voice more than ever right now during the pandemic.  We are honored to co-host this event alongside Senator Ernst and allow the Child Care community voice to be heard.  This event will allow us to move forward and develop solutions," said Mary Janssen, Regional Director, Child Care Resource and Referral of Northeast Iowa.
Background:
Ernst has put forward bipartisan legislation to expand access to quality, affordable child care by allowing non-profit child care providers to utilize programs offered by the Small Business Administration. In addition, Ernst has also been working across the aisle to increase access to licensed child care services in child care deserts through state grants that would cover some of the cost of programs to support training for caregivers and projects to build, expand, or renovate child care facilities.
Since the onset of COVID-19, Senator Ernst has pushed to help Iowa families in several ways. She helped secure nearly $32 million for Iowa's child care workers and providers through the Child Care and Development Block Grant (CCDBG) program, and has since called on the Senate to provide additional support in future COVID-19 relief legislation, specifically $25 billion for child care providers and workers through the CCDBG.
As a member of the Senate Small Business Committee, Ernst fought to make sure that Iowa's child care providers could access the Paycheck Protection Program. In addition, Ernst supported funding in the relief packages for Head Start, family violence prevention and services, runaway and homeless youth programs, child welfare services, and child nutrition programs.
Ernst is also working on bipartisan legislation that would allow parents with a newborn child to claim an additional $500 in direct financial assistance provided through the CARES Act right away instead of waiting until they receive their tax return next year.
###