WASHINGTON—Today, U.S. Senator Joni Ernst (R-IA), chairman of the Senate Agriculture Subcommittee on Rural Development and Energy, joined other Iowa elected officials Senator Chuck Grassley, Iowa Secretary of Agriculture Mike Naig, and Iowa Secretary of State Paul Pate, at the White House for President Trump's signing of the United States-Mexico-Canada Agreement (USMCA), a trade deal with Iowa's top two trading partners, Mexico and Canada.
"The USMCA will have a tremendous impact on Iowa's economy, given that we export more goods to Mexico and Canada than we do with our next 27 trading partners combined. I'm excited about the market opportunities and predictability this trade agreement will bring to hardworking Americans across the country. I was glad to celebrate this win for our state with fellow Iowans today at the White House as President Trump signed the historic trade agreement," said Senator Joni Ernst.
For over a year, Senator Ernst heard from Iowans across the state on her 99 County Tour stops about the need for the trade deal and, for over a year, Senator Ernst relayed Iowans' voices to her colleagues, pressuring House Democrats to move on it.
**Click here or on the images below to download high quality photos from today's ceremony.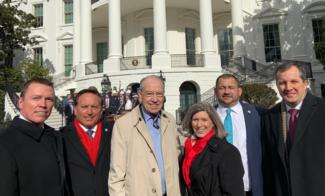 Senator Ernst with fellow Iowans at the White House.
Background:
For more than a year, Senator Joni Ernst has been a relentless advocate on behalf of Iowans for passage of the USMCA.
###