WASHINGTON—U.S. Senator Joni Ernst (R-IA) continues to make Iowans' voices heard in Washington. Today, she highlighted the stories of two Iowa farmers who are urging Congress to pass the United States-Mexico-Canada Agreement (USMCA)—an agreement signed by President Trump 298 days ago. Ernst, chairman of the Senate Agriculture Subcommittee on Rural Development and Energy, called on Speaker Pelosi and House Democrats to move on the USMCA and give Iowans, and the American people something they've long called for.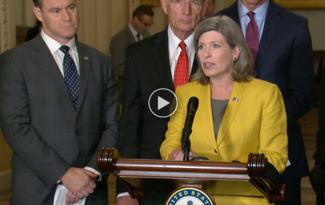 Click here or the photo above to watch Senator Ernst's remarks.
On her 99 County Tour this year, Senator Ernst visited Scott Hingtgen at his farm in Jackson County on August 14 and visited Kelly Nieuwenhuis on his farm in O'Brien County on August 31.
###