Press Releases
Celebrating Year-Round E15
Senator Ernst is continuing to tout the good news that the Environmental Protection Agency (EPA) has finally implemented their rule allowing for the year-round sale of E15! Senator Ernst, who fought hard for the Administration to finalize this rule by the summer driving season, joined the president, Governor Kim Reynolds (R-IA), U.S. Department of Agriculture (USDA) Secretary Sonny Perdue, and EPA Administrator Andrew Wheeler at an ethanol plant in Council Bluffs to recognize the economic potential of this cleaner, more affordable fuel choice.
Senator Ernst speaking at an ethanol plant in Council Bluffs.
To highlight this big win for Iowa, Senator Ernst penned an op-ed in the Des Moines Register, as well as a letter with Senator Grassley and Governor Reynolds in the Daily Nonpareil.
Making Washington Squeal
Senator Ernst continues to make Washington "squeal," this week calling on Congress to help save over $150 million of taxpayer money by allowing the U.S. Mint to modify the composition of certain coins.
It currently costs Iowa taxpayers SEVEN cents for the U.S. Mint to make ONE nickel. That makes no "cents!" And it's exactly why Senator Ernst has put forward the Currency Evolution Now To Save (CENTS) Act, which would give the Treasury Department, specifically the U.S. Mint, the authority to change the composition of the nickel, dime, quarter, and half dollar coins if these changes save taxpayer dollars and do not impact the coins' size or functionality.
Click here or the image above to watch a Squeal TV episode on the CENTS Act.
The U.S. Mint requested that Congress give them the authority to change the composition of coins, yet Congress has failed to do so for certain coins. For this reason, Senator Ernst has awarded Congress her June Squeal Award. Learn more about the CENTS Act here.
Senator Ernst joined Stuart Varney on Fox Business to discuss her 'common-CENTS' bill.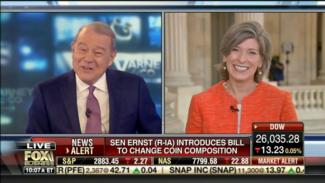 Click here or the image above to watch Senator Ernst discuss the CENTS Act.
Continuing to Fight for Iowa Farmers and Landowners Harmed by Obama-Era WOTUS Rule
Senator Ernst has fought hard to get rid of the overly burdensome, Obama-era 2015 "Waters of the United States" (WOTUS) rule that gave the federal government authority to regulate water on 97 percent of the land in Iowa. Fortunately for Iowans, her voice was heard by the Trump Administration when they proposed a replacement rule intended to provide certainty and predictability.
Continuing her efforts to ensure this new rule is a good one for Iowa's farmers and landowners, Senator Ernst pressed leaders in the agriculture community about the definitions and qualifications of WOTUS at a Senate Environment and Public Works Committee hearing.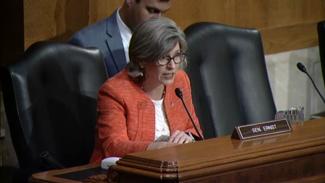 Click here or the image above to watch Senator Ernst's full line of questioning.
Fighting to Get Trade Deals Across the Finish Line
Senator Ernst continues to highlight the need to get trade deals across the finish line, specifically the United States-Mexico-Canada Agreement (USCMA). During a Senate Committee on Agriculture, Nutrition, and Forestry hearing, Senator Ernst questioned Administration officials on the details of the USMCA, including its improvements in addressing non-tariff barriers to agriculture products and technical trade rules, and how they will translate to real benefits for Iowa's farmers and manufacturers.
Click here or the image above to watch Senator Ernst's full line of questioning.
Senator Ernst re-iterated that Iowa's farmers continue to stand behind the president for holding China accountable for years of bad actions. However, she noted that China has the potential to provide tremendous market opportunity, especially as they cull their own domestic pork herds infected with African Swine Fever. During the hearing, Senator Ernst asked officials about a path forward for a deal with China and how to address the tariffs that are currently in place.
Communicating Priorities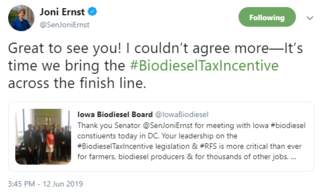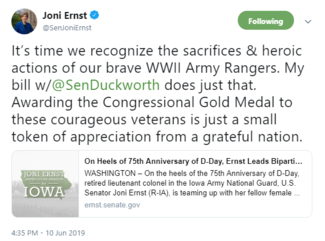 ###