Press Releases
The Iowa Senator speaks about her effort to get resources and support to survivors of domestic violence and sexual assault through the Violence Against Women Act
Nov

19

2019
WASHINGTON—U.S. Senator Joni Ernst (R-IA), a survivor and an outspoken leader on the issue of combatting domestic violence and sexual assault, once again expressed her disappointment in Senate Democrats for walking away from months-long bipartisan negotiations to reauthorize the Violence Against Women Act (VAWA).
Senator Ernst announced that she will be putting forward a good-faith proposal of her own, to provide the resources necessary for survivors of domestic violence and sexual assault in Iowa, and across the country. Ernst emphasized her bill focuses on solutions, not partisan political talking points like the one Senate Democrats abandoned negotiations to introduce.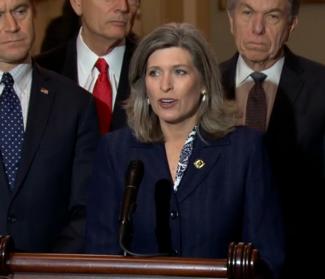 Click here or the image above to watch Senator Ernst's remarks.
###