WASHINGTON – In three short weeks, U.S. Senator Joni Ernst (R-Iowa) traveled from the Mississippi River to the Missouri River, hearing directly from Iowans in 33 counties. Ernst crisscrossed her home state to visit firsthand with small business owners, farmers, students, and community leaders.
Focused on accessibility and transparency with Iowans, Ernst hosted four town halls in Mills, Ida, Buchanan, and Shelby Counties. The senator heard concerns regarding veterans' resources, government spending and inflation, the border crisis, and other issues facing Iowans.
Click here or the image above to read more from the Gazette.
With the 2023 Farm Bill reauthorization top of mind, Ernst, a member of the Senate Agriculture Committee, continued holding roundtables in Fayette and Madison Counties to hear directly from Iowa's agriculture leaders. The senator also heard about the challenges facing Iowa's rural communities, such as access to broadband and food assistance programs.
Click here or the image above to watch more from Iowa News Now.
Ernst stopped by a number of Iowa high schools to take questions from students on everything from career technical training to her day-to-day job in Washington. The senator was welcomed by students, faculty, and staff at Northwood-Kensett High School inWorth County, Hinton High School in Plymouth County, North Scott High School in Scott County, St. Ansgar Community High School in Mitchell County, North Polk High School in Polk County, and Sidney High School in Fremont County. Students were eager to learn about the U.S. Senate, and many shared their aspirations for entering the workforce, attending college, or serving our country after graduation.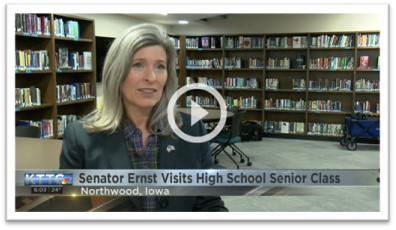 Click here or the image above to watch more from KTTC.
As a senior member of the Senate Small Business Committee, Ernst met with small business owners and employees to discuss their challenges, but also their opportunities and milestones. She stopped at Jolly Time Popcorn in Woodbury County, Wallin Plumbing and Heating in Page County, Original Saw Company in Hancock County, and Clarion Locker in Wright County. Each business provides unique services to their customers and are essential job creators in their communities.
Click here or the image above to view the full article from the Globe Gazette.
Ernst will continue to travel the state, holding town halls and hearing from business owners, in the coming months and remains committed to being accessible to Iowans from the Mississippi River to the Missouri River and everywhere in between.
###