WASHINGTON—U.S. Senator Joni Ernst (R-IA) hosted her tenth telephone town hall amid COVID-19 yesterday to answer questions directly from Iowans across the state. For the tele-town hall, Ernst was joined by Deputy Director of the Iowa Department of Public Health, Sarah Reisetter.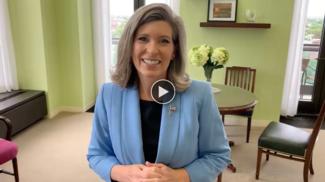 Click here or on the image above to watch Ernst's remarks on this tele-town hall.
"Being accessible and hearing directly from folks across the state is what Iowans expect. That's why I've been continuing to host telephone town halls and other question-and-answer sessions and virtual events throughout this pandemic," said Senator Joni Ernst. "On this tele-town hall, we covered a range of topics, including my work to support our child care providers and ensure relief for essential workers. Thank you to Sarah Reisetter with the Iowa Department of Public Health for joining and helping answer some questions."
Ernst's work to support child care and essential workers:
In the CARES Act, Senator Ernst helped secure nearly $32 million for Iowa's child care community through the Child Care and Development Block Grant program. In addition, Ernst recently led a bipartisan push to provide additional support to child care workers and providers during COVID-19 in a future relief package. As a member of the Senate Small Business Committee, Ernst fought to make sure that Iowa's child care providers could access the Paycheck Protection Program. 
In addition, Ernst has put forward a proposal to reward essential workers on the front lines of COVID-19. Read more about her proposal here and here.
###