WASHINGTON—U.S. Senator Joni Ernst (R-Iowa), a survivor of sexual assault and commander in the Iowa Army National Guard, is joining Senators Kirsten Gillibrand (D-N.Y.) and Chuck Grassley (R-Iowa) to help lead a new, bipartisan effort to prevent military sexual assault and hold perpetrators accountable. The Military Justice Improvement and Increasing Prevention Act would professionalize how the military prosecutes serious crimes by moving the decision to prosecute from the chain of command to independent, trained, professional military prosecutors. The bill also provides for several new prevention provisions such as more and better training for commanders and increased physical security measures, while ensuring that commanders still have the ability to provide strong leadership and ensure a successful command climate.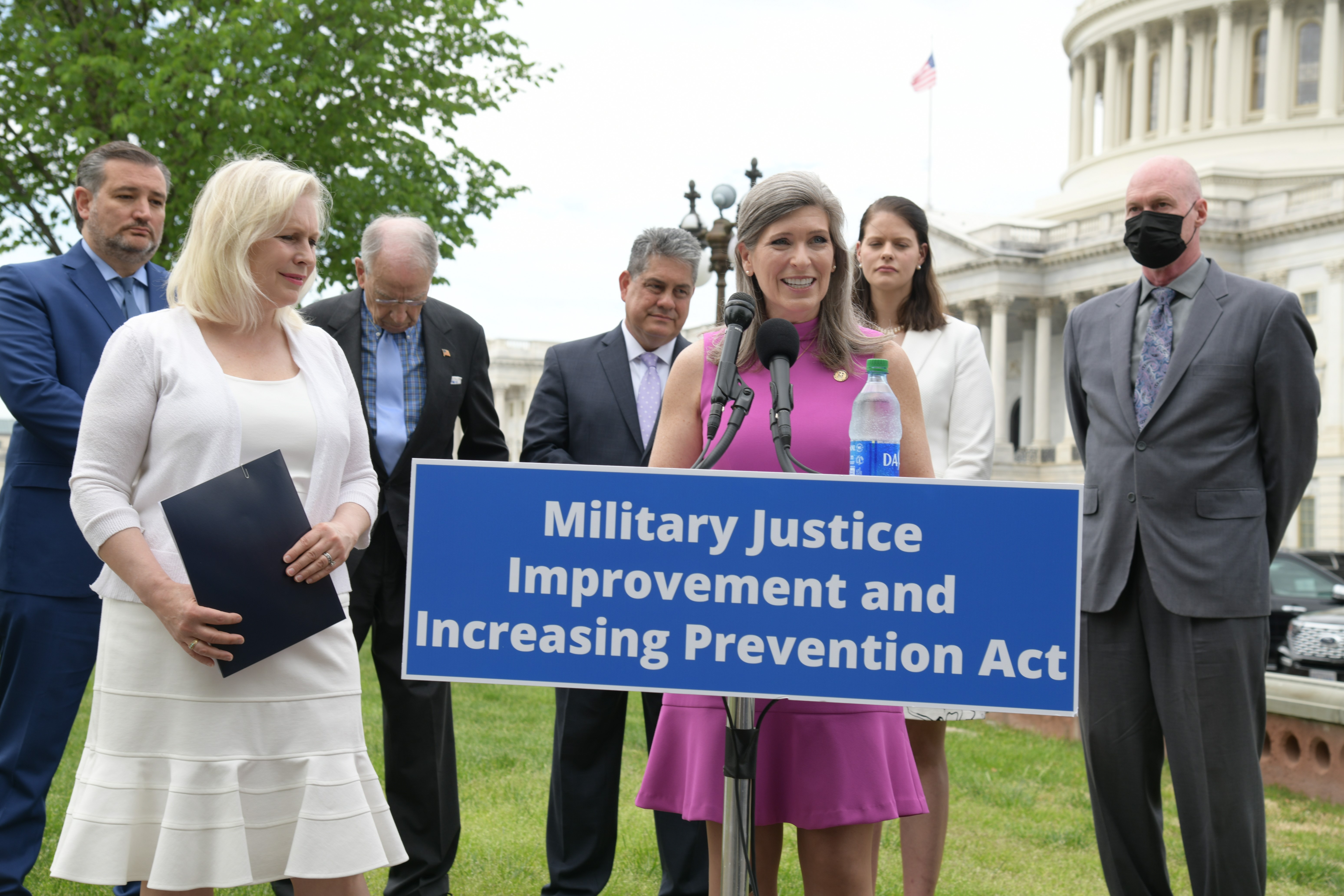 Today, Senator Ernst joined her colleagues at a press conference to introduce the bill.
"As a former combat commander and a survivor of sexual assault, I understand the traumatic experiences too many of our servicemembers have faced. Sexual assault has no place in our military—or anywhere else—and it's far past time we take more steps toward preventing and reducing these heart-wrenching crimes. This new, bipartisan bill—the result of Republicans and Democrats working together—will bolster prevention programs, education, and training; improve how we hold perpetrators accountable while ensuring commanders still have visibility of what's going on in their unit; and equip military prosecutors with the skills necessary to handle sexual and domestic violence cases. The goal has been and always will be to strengthen our fighting force and ensure all servicemembers are treated with the dignity and respect they deserve," said Senator Joni Ernst.
"Sexual assault in our military is an epidemic and it's clear that the current system is not working for survivors. Despite repeated efforts to protect our women and men in uniform rates of harassment and assault continue to rise while prosecutions decline. Congress has a solemn responsibility to protect our service members, and right now we have more work to do," said Senator Gillibrand. "The Military Justice Improvement and Increasing Prevention Act takes important, commonsense steps to deliver justice for survivors of serious crimes and prevent sexual assault in our armed forces. I am proud to introduce this new, bipartisan legislation and I thank all of my colleagues on both sides of the aisle for being my partners in this fight. With strong support in Congress, the Pentagon, and the White House this is a defining moment for passage and I'm confident we can get it done."
"Securing justice for survivors of sexual assault and abuse is critical. It's utterly unacceptable that so many of those who serve our country in uniform have dealt with a system that's broken. For eight years, Sen. Gillibrand and I have pushed for real change in the military justice system to ensure there can be real accountability. I hope this is finally the year we can deliver that change," said Senator Grassley.
Ernst has worked to combat sexual assault in the military since first arriving to the Senate in 2015. Ernst successfully included her
Military Retaliation Prevention Act
in the FY2017 annual defense bill to help reduce retaliation by peers of survivors after coming forward.
In the FY2020 NDAA, Ernst
worked to expand support for victims
of military sexual assault and domestic violence and provide senior commanders with more oversight responsibilities to most effectively prosecute these serious offenses.
Ernst's
efforts in the FY2021 NDAA
worked to make military courts handling criminal sexual assault cases more professional and lower the barriers for servicemembers to report sexual assault. It also included the Coast Guard Academy as part of the Defense Advisory Committee on the Prevention of Sexual Assault.
Background:
The  Military   Justice Improvement and Increasing Prevention Act would take critical steps to create a more professional and transparent military justice system for serious crimes — including rape and sexual assault, murder, manslaughter, child endangerment, child pornography, and negligent homicide — and address the need for sexual assault prevention that DoD has not implemented.  Specifically, the legislation would: 
Move the decision on whether to prosecute serious crimes to independent, trained, and professional military prosecutors, while leaving misdemeanors and uniquely military crimes within the chain of command. By moving this work off of the commander's plate, it will empower commanders to focus on mission critical activities—while specifically preserving the authorities that a commander needs to provide strong leadership and a successful command climate.
Ensure the Department of Defense supports criminal investigators and military prosecutors through the development of unique skills needed to properly handle investigations and cases related to sexual assault and domestic violence. 
Require the Secretary of Defense to survey and improve the physical security of military installations – including locks, security cameras, and other passive security measures – to increase safety in lodging and living spaces for service members. 
Increase, and improve training and education on military sexual assault throughout our armed services. This training would help shift the culture in the military and ensure that the armed services can enforce a no-tolerance zone for sexual assault and other grievous crimes.
###