WASHINGTON – U.S. Senator Joni Ernst (R-Iowa) took the stage at the Christians United for Israel(CUFI)Summit 2023, an event supporting strong U.S.-Israeli relations and fighting back against antisemitism.
As the largest pro-Israel organization in the United States, with over 10 million members,CUFIis the foremost Christian organization educating and empoweringAmericansto speak and act with one voice in defense of Israel and the Jewish people.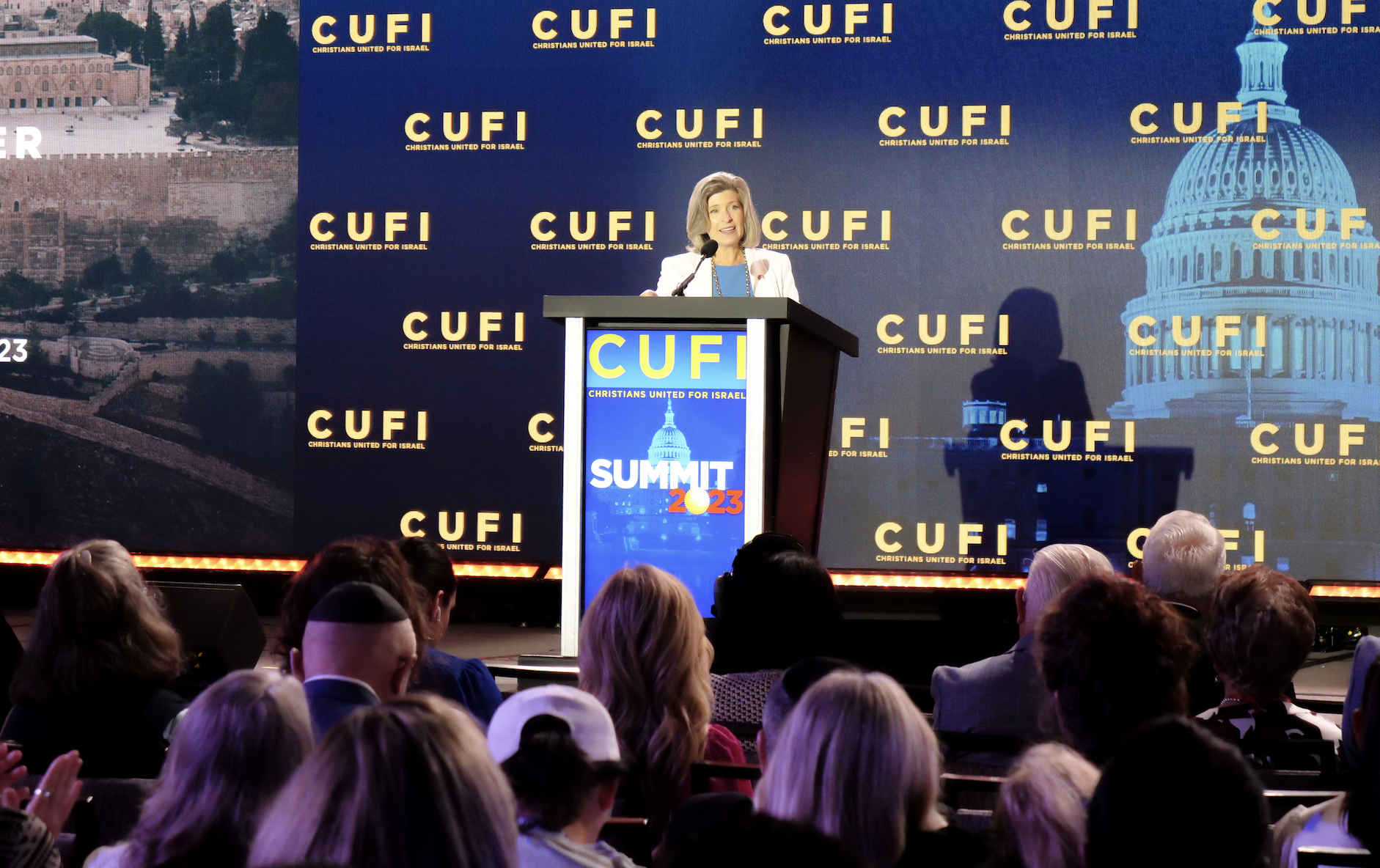 Click here or on the image above to watch Sen. Ernst's full remarks.
Ernst's full remarks below:
Good morning, I'm grateful to be with you here again for CUFI's annual summit.
Folks, Israel is under attack.
It's under attack from Iran and its terror proxies, and it's under attack here in the U.S., including from within the halls of Congress.
Make no mistake: in the Senate, I will continue to defend Israel.
That means calling out the current administration that treats Iran's Mullahs better than Israel's democratically-elected government.
As a Member of the Armed Services Committee, I believe that the best way I can protect and support Israel is through advancing the historic Abraham Accords.
As co-chair of the Abraham Accords Caucus, I am proud of the incredible work we have accomplished to bring peace and prosperity to Israel and the Middle East.
These bipartisan efforts have a broad reach by seeking to build relationships from a point of common need and understanding: security.
In 2022, the Abraham Accords Caucus passed the bipartisan and bicameral DEFEND Act.
This legislation authorized the Secretary of Defense to engage with our partners and allies in the region to build an integrated air and missile defense infrastructure.
To put that into context, that means our partners could share and combine data from each other's radars, drastically increasing the warning time for drone and missile attacks.
We are already seeing progress in this effort, and I believe Israel will play a key role moving forward, due to its advanced capabilities and experience in this field.
Another effort of the Caucus to bring peace and prosperity to the region is the MARITIME Act, which was included in this year's Senate NDAA.
This effort would direct the U.S. to bring Israel into our multinational maritime security coalitions.
It would also authorize the Secretary of Defense to build an integrated maritime domain awareness and interdiction capability.
This legislation is especially critical with Iran on the offensive in the Straits of Hormuz.
According to the U.S. Navy, since 2021, Iran has attempted to seize nearly 20 oil tankers.
And folks, this unprecedented rise in Iranian aggression is fueled by Biden's appeasement.
While Iran attacks the very foundation of global stability, the Biden administration is busy trying to strike a less-for-less deal with a negotiator who is being investigated by the FBI.
Iran's aggression is also fueled – literally - by the Biden administration's lack of enforcement of the very sanctions they put in place.
Iranian oil sales fund the IRGC's terror campaign around the world.
When Team Biden doesn't enforce their own sanctions, they are enabling Iran to kill innocent Israelis, Americans, Saudis, Emiratis, and countless others. 
During the Trump administration, we started seizing Iranian oil, which cost the Iranians millions and moved that money from the perpetrators of terrorism to the victims.
We must start doing this once again.
Iran's terror activities are a cancer that has be stopped, and I remain committed to countering Iran's terror at every opportunity.
But we cannot not fight this fight alone.
We must build a coalition through strong and smart American leadership.
This will certainly require working shoulder-to-shoulder with Israel, but it will also require working side-by-side with Saudi Arabia.
Saudi Arabia sits across a narrow strait from the world's greatest exporter of terror. Iran and its proxies have directly attacked the Kingdom and its citizens.
Saudi Arabia knows what's at stake with a nuclear and empowered Iran.
This common understanding is why it's so important that we bring Saudi Arabia and Israel together for the security of the region.
But that unity will not come from an administration that would rather throw a tantrum than look at the facts.
That's why when President Biden pulled the U.S. representative from a joint meeting with Gulf State partners on security issues, I wrote a letter, on my own, advocating for the importance of the security relationship with Saudi Arabia.
I have always believed that relationships matter and that is particularly true in the Middle East.
I will continue to ensure that our allies and partners in the region know they have a friend in Joni Ernst.
Folks, the work that all of us do today will impact the future of the Middle East and Israel for years to come.
We must continue to be vigorous defenders of freedom in the region from both external actors and internal critique.
Israel, like America is not perfect, but it must be allowed to resolve its domestic issues internally and show the world the power of the region's greatest democracy, and all that they can do.
Tomorrow, we have a great opportunity with our joint session of congress and I'm so excited about the opportunity to once again be able to visit and talk face to face with Israel's President Hertzog.
I will reiterate my message of strong support for Israel, and the people our great ally represents.
It is so important that we reiterate to our friend and ally Israel that they have our full and continued support.
They are the cornerstone of democracy in the middle east region, and we know with Israel and their Arab partners that we can stabilize that region of the globe, and it is all the better for the rest of us.
So, thank you all so much for remaining devoted to our greatest ally and partner, Israel.
God bless you for the work that you doing with CUFI.
God bless you, enjoy the day, spread the word, and stay strong.
Event Photos: