That's a Wrap! Completing this Year's 99 County Tour
With the conclusion of her 35th public town hall this year last Saturday, Senator Joni Ernst officially completed her 99 County Tour for 2019, marking the fifth time she's completed the annual tradition of visiting every single one of Iowa's 99 counties. Over the last year, Ernst held 35 public town halls in Iowa's most urban areas and rural communities, made dozens of visits to local small businesses, health care centers, farms, and manufacturers, and spoke directly with thousands of Iowans across the state.
Click here or the image above for a video recap of Senator Ernst's 99 County Tour for 2019,
Senator Ernst's annual 99 County Tour allows her to connect with Iowans from every corner of the state and to hear about some of the most important things on their minds. This year, some of the top issues she heard from Iowans about were on the need to lower prescription drug costs, to ensure the EPA upholds the RFS, and to pass trade deals like the United States-Mexico-Canada (USMCA) Agreement.
Fighting to Uphold the RFS
Senator Ernst continues to be a tireless advocate and fighter on behalf of Iowa's biofuels industry. This week, Senator Ernst spoke directly with President Trump by phone on this issue, and submitted comments to the Environment Protection Agency (EPA) on their proposed supplemental rule on the Renewable Fuel Standard (RFS), along with Senator Chuck Grassley and Governor Kim Reynolds. The three Iowa leaders have a clear, consistent message for EPA Administrator Andrew Wheeler: uphold the RFS and provide certainty to Iowa farmers and biofuels producers that 15 billion gallons means 15 billion gallons. You can read Senator Ernst's letter to Administrator Wheeler here.
Calling on Democrats to Stop the Antics, Focus on National Security
Senator Ernst, the first female combat veteran elected to the U.S. Senate and chairman of the Senate Armed Services Subcommittee on Emerging Threats and Capabilities, blasted her Democratic colleagues who blocked a measure simply allowing a debate on defense funding.
Click here or on the image above to watch Senator Ernst's remarks.
Reflecting on the ruck march she participated in last Sunday with the Office Candidate School in Camp Dodge, Iowa, Senator Ernst continued to highlight the need to fund our armed forces. Ernst recalled thinking about the equipment the young soldiers were wearing—that they have to be provided through funding from Congress—and being disappointed that her Democratic colleagues continue to stall the support for our military instead of focusing on our national security and the men and women who protect our country.
Click here or the image above to watch Senator Ernst's remarks. 
Honoring Her Fellow Veterans
Ahead of Veterans Day 2019, Senator Ernst spoke on the Senate floor to honor our nation's veterans. Senator Ernst highlighted the story of Iowa veteran Glenn McDole, who, after being held as a prisoner of war in World War II, continued to serve his state in the Iowa State Patrol and Polk County Sheriff's Office.
Senator Ernst also discussed her work in the Senate to support our veterans, including expanding access to services through the bipartisan VA MISSION Act, which included a number of her priorities, and her HAVEN Act, which President Trump signed into law earlier this year.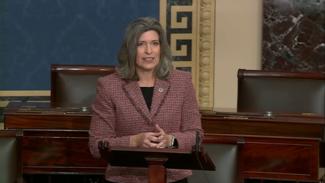 Click here or on the image above to watch Senator Ernst's remarks.
Demanding Answers from the VA
In light of alarming reports detailing incidents of sexual assault and harassment at the Department of Veterans Affairs (VA), Senator Ernst, a combat veteran, and Senator Shelley Moore Capito (R-WV) sent a letter to VA Secretary Robert Wilkie calling on officials to quickly bring information forward to identify gaps in the VA's policies, to prevent the reoccurrence of such incidents, and to hold perpetrators accountable. The Military Times covered the senator's efforts:
Senator Ernst also requested an update from the VA on their suicide prevention efforts in response to a report that showed an uptick in the rate of veteran suicide from the previous year.
Social Media Highlights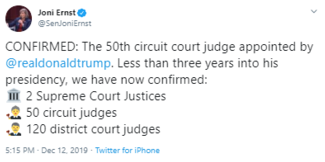 ###