Bagging the Swag
With $1.4 billion in taxpayer money spent annually by government agencies on public relations (PR) and advertising campaigns, Senator Joni Ernst this week introduced legislation, the Stop Wasteful Advertising by the Government Act, or SWAG Act, to prohibit tax dollars from being spent on "mascots" and swag to promote government agencies and to require the disclosure of all propaganda paid for by the public.
Federal agencies have paid more than $250,000 to construct their own custom-made costumes. This includes $5,000 spent by the Department of Energy to create a costumed character modeled after the Grim Reaper called the Green Reaper. And the list goes on, and on, and on. Government agencies are also spending millions of taxpayer dollars on tote bags AND swag to fill them up. For these reasons, Senator Ernst awarded her October Squeal Award to the federal agencies that have put a premium on promoting their own public image.
Click here or the image above to watch a "Squeal TV" episode highlighting this wasteful spending.
Senator Ernst joined Stuart Varney on Fox Business to discuss her efforts to bag the swag and end unnecessary taxpayer-funded propaganda and require these kinds of expenditures to be made transparent and available for public scrutiny.
Click here or the image above to watch Senator Ernst discuss the SWAG Act.
The Washington Times covered Senator Ernst's latest efforts to Make 'Em Squeal.
Reaffirming Commitment to Fighting the Opioid Crisis
Senator Ernst, a leader in the fight against the opioid epidemic, spoke on the Senate floor this week on the work she and her Senate Republican colleagues are doing to combat the crippling opioid epidemic.
Last week marked the one year anniversary of President Trump signing into law the largest opioid response package in our nation's history. This important legislation, now law, includes Senator Ernst's provisions to combat the opioid crisis through drug take back programs in communities in Iowa, and across the country.
Click here or the image above to watch Senator Ernst's remarks.
Warning Terrorists
Senator Ernst, the first female combat veteran elected to the U.S. Senate and chairman of the Senate Armed Services Subcommittee on Emerging Threats & Capabilities, commended President Trump, the intelligence community, and our special operations forces for their successful mission taking out ISIS leader, Abu Bakr al-Baghdadi. Senator Ernst declared this mission a warning to all terrorist groups—that they cannot hide, and the U.S. will always bring them to justice.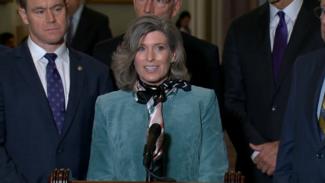 Click here or the image above to watch Senator Ernst's remarks. 
Social Media Highlights
Click here or the image above to watch a video on Halloween traditions.
###