Press Releases
11 Town Halls, 37 Visits and County Tour Stops, 3 Bills Signed Into Law, 1 Committee Field Hearing – Meeting with Thousands of Iowans
RED OAK, Iowa – U.S. Senator Joni Ernst, the first female combat veteran to serve in the United States Senate, continued traveling across Iowa on her 99 County Tour in the month of August, holding 11 town halls, making 37 other visits and county tour stops, having three bills signed into law, hosting one Senate committee field hearing, and meeting and speaking with thousands of Iowans along the way.
By Labor Day, the Senator reached county number 82 on her 99 County Tour for 2019.
Click HERE for a downloadable video link of B-Roll of Senator Ernst at some of her town halls and other stops over the August work period so far.
Here's a snapshot of Senator Ernst's busy August:
11 Town Hall Meetings, Including in Polk County
Senator Ernst held 11 town hall meetings in Iowa over August, which brings the total number of town halls she's held across the state in 2019 to 31.
One of those August town halls was in Iowa's most populated county, Polk County.
Senator Ernst answering a question at her Polk County town hall meeting.
Throughout the month, the Senator also held town halls in Appanoose, Butler, Calhoun, Winnebago, Franklin, Fremont, Hancock, Kossuth, Dickinson, and Emmet counties.
37 Other Visits and County Tour Stops
Senator Ernst made 37 other visits and county tour stops in the month of August. The Senator visited Iowans everywhere from a dairy farm in Jackson County to a solar farm in Adams County, and a manufacturing plant in Davis County to a local brewery in Worth County. Here's a quick look at some of the local businesses, manufacturers, farms, and other locations Senator Ernst visited throughout Iowa over the month:
In Jackson County, Senator Ernst met with local dairy farmers at Hingtgen Farms, a family-run dairy farm in Bellevue. Senator Ernst was able to see their work firsthand, and had a robust discussion about the need to pass the USMCA to increase market access for Iowa's dairy exports.
In Davis County, Senator Ernst visited and toured Performance Pipe located in Bloomfield, one of the county's largest employers. Performance Pipe products are used throughout the county, in everything from oil rigs to groundwater systems.
In Palo Alto County, Senator Ernst visited Hughes Pharmacy, where she took part in a tutorial on the telehealth pharmacy process, which is an increasingly important tool for rural communities. The Senator also discussed the work she is doing to drive down the costs of prescription drugs, including increasing transparency and competition.
As a member of the Senate Committee on Small Business & Entrepreneurship, Senator Ernst is always focused on hearing directly from Iowa's small businesses, like Worth Brewing Company in Worth County about what policies help them succeed. Plus, you can't beat a local Iowa craft beer!
Senator Ernst visits Southwest Iowa Solar Farm in Adams County, one of the facilities across the state that helps make Iowa a nationwide leader in renewable energy.
Three Bills Signed Into Law
Over the month of August, President Trump signed three of Senator Ernst's bills into law—one aimed at assisting veterans, one designed to help farmers in need, and one to better support Iowa's small businesses:
The Honoring American Veterans in Extreme Need (HAVEN) Act protects the economic security and well-being of veterans and their families who rely on disability benefits and may be experiencing financial hardship.
The Family Farmer Relief Act of 2019 helps family farms reorganize after falling on hard times by raising the Chapter 12 operating debt cap to $10 million, allowing more family farmers to seek relief under the program.
The Small Business Reorganization Act simplifies debt reorganization for small businesses so there are less bankruptcy requirements that are meant for large corporations.
Small Business Field Hearing in Des Moines
Building on her efforts to help address some of Iowa's workforce challenges and continue to grow the state's small businesses, Senator Ernst hosted and chaired a Senate Small Business and Entrepreneurship Committee field hearing in Des Moines focused on efforts at the federal level and by Iowa's businesses, local employers, schools, and policymakers to address workforce challenges. Witnesses at the field hearing included Governor Kim Reynolds (R-IA), among others.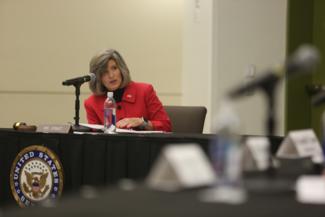 To watch Senator Ernst's opening remarks, click here or on the image above.
###