Press Releases
WASHINGTON – Today, U.S. Senator Joni Ernst (R-Iowa) spoke on the floor of the Senate calling for the U.S. to continue strengthening our armed forces in line with the national defense strategy, and to recognize the return of great power competition. She also highlighted the significance of our alliances around the globe while emphasizing the importance of sound fiscal policy in providing funding for our common defense.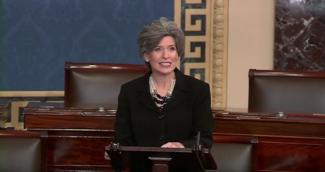 Click here or on the image above to watch.
On the Senate floor, Senator Ernst said:
"Mr. President, I rise today to speak on U.S. national defense.
"In the last couple of years, we have made tremendous progress in strengthening our military and have effectively realigned our global posture and strategy.
"Under the new National Defense Strategy, the U.S. has rightfully recognized the return to great power competition, where our priorities have shifted from low intensity conflict to posturing against peer and near-peer adversaries. Over the last 17 years of combat in the Middle East, U.S. dominance and deterrence against great power competitors has diminished. Meanwhile, nations like China and Russia have undertaken extraordinary military modernization efforts while engaging in unprecedented and destabilizing aggression.
"We have seen Russian intrusions in cyberspace, the illegal annexation of Crimea, information attacks on western democratic institutions, and the spread of lies, half-truths, and slander in order to sow division and chaos between the U.S. and our partners. These gray zone activities – which are actions below the level that would provoke an armed conflict – have gone mainly unchecked by the U.S., which has set a troubling precedent and only served to encourage further provocation.
"From China, we see these gray zone techniques manifested in their land reclamation in the South China Sea, the construction of their first foreign military installation in Djibouti, and the continuing theft of intellectual property and trade secrets in critical security areas. They have also greatly undermined our supply chain through the Made in China 2025 initiative, which seeks to ensure that the U.S. and others remain reliant on the Chinese industrial base.
"Above all, the U.S. is threatened by Russia and China's advances in emerging technology. This includes hypersonic weapons, artificial intelligence, space capabilities, quantum computing, and directed energy. Without significant resources and focus, we will lose our technological superiority in these areas, and both U.S. national security and the global order will be in serious jeopardy.
"Building off of our successes from the last two years, Congress and the Executive Branch must remain committed to investing in research, development, rapid acquisition, and the deployment of capabilities that provide for deterrence in line with the threats of the 21st century. Just as we rose to the challenge in the two World Wars, the Cold War, and following the attacks on September 11, 2001, we must once again evaluate our current posture and chart a course that best protects our national security and interests.
"While the National Defense Strategy correctly prioritizes a return to great power competition, we still have great national security threats in the low intensity domain, particularly in the Middle East and North Africa. The success of our missions in Iraq, Afghanistan, Syria, and Africa can be seen in our ability to prevent extremist groups from projecting attacks into the U.S. homeland. Through the heroic and dedicated service of our men and women in uniform, we have put unyielding pressure on foreign terrorists, and in turn, we have prevented another massive attack like we saw on 9/11.
"While we have seen tremendous battlefield success against groups like the Islamic State, counterterrorism and stability operations require a sustained commitment of presence and resources in order to consolidate gains and promote good governance and the rule of law. In the absence of the latter, ungoverned spaces quickly transform into breeding grounds for terror groups. That is why we are in Iraq, that is why we are in Afghanistan, and that is why we should remain in Syria until our objectives are met.
"Balancing our approach towards both low and high intensity threats will require us to rely on our allies and partners more than we have in decades as we have a limited supply of resources for our national defense. However, if we are able to leverage the resources of our friends, we will assume less risk as we seek to move more resources towards countering great power threats. Likewise, as we seek to bolster our defense posture towards peer competitors, we will greatly benefit from increased contributions and commitments from our allies and partners.
"That means insisting that our treaty allies contribute their fair share to the international security burden, and also ensuring that our allies and partners are investing in weapons systems and military platforms that interoperate with ours while effectively deterring our common adversaries. We cannot and should not abandon those who share our values of democracy and freedom, but rather, work with them to increase defense contributions and build necessary capabilities and capacities. Unlike Russia and China, our network of allies and friends, who have stood shoulder to shoulder with us in the defense of freedom and democratic values, are a source of great strength as well as an integral part in promoting global security.
"Mr. President, I would be remiss if I did not take this opportunity to once again acknowledge the most detrimental adversary of our national defense – poor fiscal policy. As then-Secretary Mattis stated when he announced the National Defense Strategy, continuing resolutions and sequestration have hindered our security more than any foe.
"These wasteful applications of taxpayer dollars prevent long-term planning, stymie research and development, delay critical procurement, and prevent necessary training and readiness investment.
"Mr. President, what we do in this chamber has consequences that reverberate far beyond Washington. When we fail to do our job, we put our warfighters at higher risk and cripple our strategic posture, ultimately endangering our national security.
"That is why I have come to the floor today to urge bipartisanship and collaboration amongst both Houses of Congress on defense spending policy. The political climate of today will assuredly prevent progress in some areas of Congress' work, but I encourage my colleagues to set those differences aside when we consider policies and appropriations for our national defense.
"We have a lot of work ahead in order to protect our security and interests, but I am confident that we can come together to solve these issues of critical importance.
"Thank, Mr. President, and I yield the floor."
###