Press Releases
Working to Provide Relief for Iowans
This week, there was a bill on the floor of the U.S. Senate that would have included needed aid for communities in Iowa impacted by flooding. It was voted down by Democrats who wanted to play politics instead. Senator Ernst spoke out about her frustration with Senate Democrats putting partisanship over disaster relief for Iowans.
Click here or on the image above to watch Senator Ernst's remarks.
In addition to continuing to fight for speedy disaster aid and ensuring Federal Emergency Management Agency (FEMA) and other federal agencies are helping Iowans on-the-ground, Senator Ernst is fighting for help for Iowans facing losses from the destruction of their grain storage. Right now, the U.S. Department of Agriculture's (USDA) disaster relief program covers lost crops that are in the ground, but not harvested crops that are lost while in storage, like what has happened to so many Iowa farmers. Together, with Senator Chuck Grassley, Ernst is working on an amendment that would extend coverage from the USDA's disaster programs to include stored grain.
For families, individuals, and businesses across Iowa, there are a number of resources available. Click here to learn more.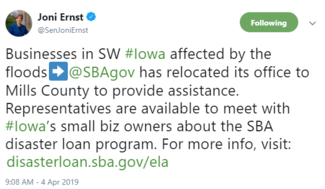 Sexual Assault Awareness Month's Day of Action
Tuesday was Sexual Assault Awareness Month's Day of Action. In honor of that day, Senator Ernst helped introduce bipartisan legislation to combat sexual assault on college and university campuses by reintroducing legislation that protects students and strengthens accountability and transparency for colleges and universities. The Campus Accountability and Safety Act would reform the way colleges and universities address and report incidents of sexual assault that take place on their campuses, and it would help protect both survivors and accused students by ensuring that schools have a uniform and fair process for investigating and conducting campus disciplinary proceedings.
70th Anniversary of NATO
As chairman of the Senate Armed Services Subcommittee on Emerging Threats and Capabilities, as well as a member of the Senate NATO Observer Group, Senator Ernst was honored to help welcome North Atlantic Treaty Organization (NATO) Secretary General Jens Stoltenberg to the U.S. Capitol this week. Leading up to the 70th anniversary of the alliance, Secretary General Stoltenberg gave a joint address to Congress. Following the address, Senator Ernst recognized the importance of alliances and partnerships like NATO.
Click here or on the image above to hear Senator Ernst's take on the Secretary General's address.
Communicating Priorities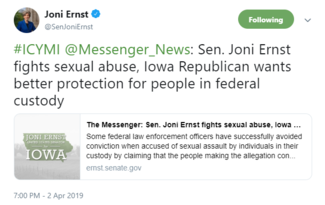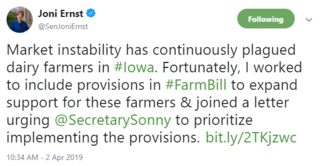 ###