Press Releases
"The position of U.S. Ambassador to China is one of the most important ambassadorial positions in the world, and I am confident that my friend and Governor – Terry Branstad – is the right person for the job."
May

22

2017
WASHINGTON, D.C. – U.S. Senator Joni Ernst today spoke on the floor of the United States Senate in support of Iowa Governor Terry Branstad's confirmation to be U.S. Ambassador Extraordinary and Plenipotentiary of the United States of America to the People's Republic of China.
Click here or on the image below to watch the Senator's remarks.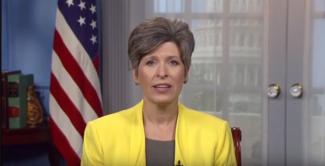 The following is the full text of Senator Ernst's remarks:
"Mr. President,
"I rise today to encourage my colleagues to support Iowa Governor Terry Branstad's nomination to be U.S. Ambassador to the People's Republic of China.
"The position of U.S. Ambassador to China is one of the most important ambassadorial positions in the world, and I am confident that my friend and Governor – Terry Branstad – is the right person for the job.
"Having worked alongside the Governor for many years, I know he will exemplify the same leadership, thoughtfulness, and dedication in his role as Ambassador to China on behalf of the United States as he did for the people of Iowa.
"Importantly, Governor Branstad also knows China and its leaders well. He first met President Xi Jinping while he was visiting Iowa on an agricultural research trip in 1985. They have kept in touch over the years, and Governor Branstad has since visited China a number of times on behalf of the State of Iowa.
"Iowa's extensive trade relationship with China has given Governor Branstad a front-seat view of the complexities of our country's broader trade and economic relationship with China and will provide him with the foundation to effectively advocate for U.S. interests.
"As evidenced by his successful confirmation hearing before the Senate Foreign Relations Committee – which approved his nomination by voice vote – Governor Branstad will not only work tirelessly to foster our trade and economic interests with China, but he is also prepared to tackle the many other complex bilateral issues we have with China – from North Korea to the South China Sea to human rights.
"It has been an honor to serve the people of Iowa alongside Governor Branstad – the longest serving governor in United States history – and I am thrilled to continue to work with him in his new role serving the American people.
"I thank Governor Branstad for his service to Iowa, and I wish him and his family the best as they prepare to depart for Beijing.
"Thank you, Mr. President. I yield the floor. "