Press Releases
#SOTU
On Tuesday night, President Trump delivered the annual State of the Union address. Senator Ernst, as vice chairman of the Senate Republican Conference, helped to escort the president onto the floor of the U.S. House of Representatives. Following the speech, Ernst issued a statement, calling the president's message one of "unity, cooperation, and prosperity." She also recorded a video message focused on the tremendous economic success we've seen under Republican pro-growth policies. A number of local media outlets covered the senator's take on the address, including WHO Radio, Omaha World-Herald, and KIOW.
To watch the full video message, please click here or on the image above.
Jobs, Jobs, Jobs
The January Jobs Report showed 304,000 new jobs were added last month. It is yet another example of the success of Republican pro-growth policies—like tax reform and regulatory reform—that are getting people back to work in Iowa and across the country. On Wednesday, Senator Ernst led an event on the Senate floor focused on our booming economy. She was joined by five other senators, including chairman of the Senate Republican Conference Senator John Barrasso (R-WY) and Senate Majority Whip John Thune (R-SD).
Click here or on the image above to watch the full speech.
Reforming National Security Tariffs
Iowa farmers, manufacturers, and business owners have been hit hard by Section 232 steel and aluminum tariffs. This week, Senator Ernst introduced bipartisan legislation that would reform the process for an administration to issue tariffs on the basis of national security threats. The Trade Security Act would require the Department of Defense, not the Department of Commerce, to evaluate the national security basis behind a proposed tariff under Section 232. The bill also gives Congress more oversight of this process. The Washington Examiner covered this bipartisan bill.
Protecting Life and the Second Amendment
In recent weeks, we've seen the ugly truth about the far-reaching grasp of the abortion industry and its radicalized agenda. Senator Ernst strongly believes this assault on life cannot stand. On Monday evening, she spoke on the Senate floor in support of Senator Ben Sasse's (R-NE) Born-Alive Abortion Survivors Protection Act.
Click here or on the image above to watch the full speech.
Senator Ernst joined Senator Cindy Hyde-Smith (R-MS) and a number of her colleagues in reintroducing legislation that will ensure federal funding is not used by states, localities, or any other organizations to maintain gun registries. The Gun-owner Registration Information Protection Act (GRIP Act) will make sure that gun owners in Iowa and across the country are not unlawfully tracked by any government.
Communicating Priorities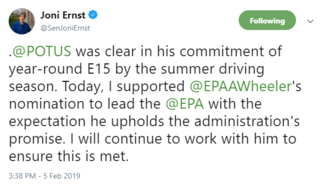 In case you missed it, CNN did a story on this "bipartisan spin class!"
###