Press Releases
U.S. Senator Joni Ernst (R-IA) today met with President-elect Trump's nominee to head the Office of Management and Budget (OMB), U.S. Representative John Michael "Mick" Mulvaney of South Carolina.
Following the meeting, Senator Ernst issued this statement:
"It was great to meet with Representative Mulvaney who has a track-record of standing firm in his belief of smaller government and more accountability to the American people.
"As we discussed ways to make the federal government more efficient and accountable, I asked for him to ensure the implementation of my bipartisan Program Management and Accountability Act that was signed into law by President Obama last month. This legislation has the potential to save billions of taxpayer dollars by requiring the federal government to utilize best practices from the private sector so we can increase accountability and prevent the lax oversight that leads to headline grabbing government failures. Streamlining operations procedures is one of the many ways we can eliminate waste in the federal government and it's my hope that Rep. Mulvaney would push this initiative in this new administration.
"Rep. Mulvaney and I share a commitment to restore integrity, fiscal responsibility, and efficiency in the federal government. I look forward to continuing the vetting process for Rep. Mulvaney and ensuring he will provide a common-sense fiscal blueprint for our nation moving forward."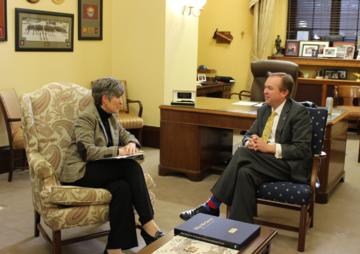 Senator Joni Ernst meets with Representative Mick Mulvaney.

###