Press Releases
WASHINGTON—During the
third day
of Senate Judiciary Committee hearings for Judge Amy Coney Barrett, U.S. Senator Joni Ernst (R-IA) gave Judge Barrett the opportunity to offer advice to young women, like Ernst's daughter Libby.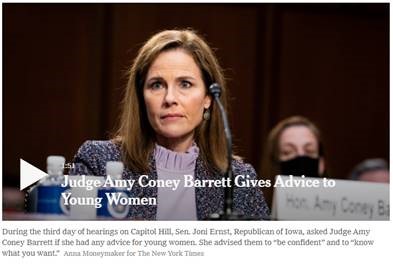 Click here or on the image above to read the New York Times article.
The New York Times covered this exchange, writing, "Near the end of a third day of hearings on Capitol Hill, Senator Joni Ernst, Republican of Iowa, asked Judge Barrett if she had advice for young women.
Judge Barrett said she did, and passed on some guidance that she said her father had told her.
'One thing I have often told my own daughters is that you should not let life just happen to you or lead you along,' Judge Barrett said. 'You should identify where your objectives are and identify the type of person you want to be and make deliberate decisions to make that happen. My dad used to tell us not to make a decision is to make a decision.'
"'Make decisions. Be confident. Know what you want. And go get it,' she concluded."

Click here or on the image above to reach the Wall Street Journal article.
The Wall Street Journal also reported on Ernst's line of questioning, saying in part, "After Democrats spend considerable parts of their day highlighting all the ways they say Judge Barrett will be different from the liberal Justice Ruth Bader Ginsburg, Sen. Joni Ernst (R., Iowa) says it isn't the case that all women should have to 'march in lockstep.'
"'The way I see it, you're both trailblazers,' Ms. Ernst said."

Click here or on the image above to read Radio Iowa's article.
Radio Iowa also published Ernst and Barrett's exchange.
###