Press Releases
"As reports continue to come in across the DOD, it's clear that this seems to be Service-wide. This is Service-wide. And so we need a Service-wide approach to addressing this issue. This is a cultural problem not just in our military, but society at large. … Illegal or not, members of our community need to know this type of activity creates a culture that leads to sexual assault. … There is absolutely no excuse for this – especially for those who wear our nation's uniform."
WASHINGTON, D.C. – U.S. Senator Joni Ernst, a combat veteran and member of the Senate Armed Services Committee, expressed her disgust and disappointment over the reports regarding the "Marines United" website at today's committee hearing. Additionally, Ernst stressed that this is a cultural problem in our society and military, and urged General Robert B. Neller, Commandant of the United States Marine Corps, to implement the urgent necessary changes needed after telling him members of the Committee stood ready to help.
Click here or on the image below to watch the Senator's remarks.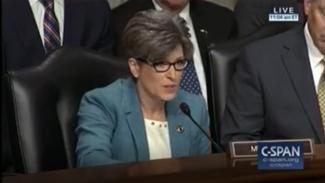 The following is the full text of Senator Ernst's opening remarks:
"Thank you Mr. Chair.
"Those who participated in these disgusting and horrible actions have not only failed our Marine Corps, they've failed the men and women who wish to join your ranks – and they have failed our country.
"I'm not as eloquent as some of the other members on this panel, all I can do is express to you how disappointed I am. I'm very disappointed.
"General Neller, I hope that you can convey the concerns you've delivered to this committee today directly to your Marines, not through a press conference, not through your designees, but directly to as many Marines as you possibly can. Implementing change to this type of behavior begins at the ground level. And you are a leader, sir.
"As reports continue to come in across the DOD, it's clear that this seems to be Service-wide. This is Service-wide. And so we need a Service-wide approach to addressing this issue. This is a cultural problem not just in our military, but society at large.
"Hearing that many individuals were not surprised about these reports disappoints me – hearing that there may not be a way to hold many of the people that were involved in this accountable, that angers me.
"Illegal or not, members of our community need to know this type of activity creates a culture that leads to sexual assault. Those that sat complacently by as this unfolded – from the NCO's to the Officers – are all contributing to this issue.
"There is no excuse, and you have stated that General Neller, I appreciate that greatly. There is absolutely no excuse for this – especially for those who wear our nation's uniform.
"The steps that you now take, moving forward, following this event will define each of us before this committee.
"Regardless of what legal or administrative action you are able to take, I hope this leads to you personally sitting down, and you Sergeant Major as well, sitting down and educating our Marines.
"A social media handbook has been discussed by a number of folks here on the panel, but how many Marines actually read that? How many sit down and read it? It is up to all of us to educate our Marines.
"The Marine Corps has a high turnover rate. We have thousands of Marines coming through every year and we have to make all of them aware of what they represent.
"They need to know that the actions they take here at home and online can take away from the success of their brothers and their sisters in arms.
"This is an absolute issue that impacts our entire society, it is an absolutely horrible issue impacting us, but it's one that we must stop. And I say we, it's not just the Marine Corps, it's those of us that are sitting here today.
"We will be evaluating how to give you the right tools, the necessary tools to combat this issue and, absolutely, you must hold those Marines accountable.
"In the meantime, I hope that you will continue to evaluate what we need to do to combat this issue, not just in the Marine Corps, but Service-wide and what we need to do to impact it in society at large.
"Thank you Mr. Chair."