Press Releases
Working Across the Aisle to Assist Family Caregivers
Iowa is home to over 300,000 family caregivers. Many of these individuals are juggling their own full-time or part-time employment while also selflessly caring for a loved one. This week, Senator Ernst reintroduced her bipartisan Credit for Caring Act, which provides an avenue of relief and support for hardworking family caregivers in Iowa, and across the country.
Click here or the image above to watch a video on the Credit for Caring Act.
Ernst's bill would provide working family caregivers with a nonrefundable tax credit up to $3,000 to assist with out-of-pocket expenses related to caregiving. This tax credit for caregivers can be used toward expenses such as transportation, home modifications to accommodate a family member, medication management services, and training or education for the caregiver.
AARP is a strong supporter of the bill. Nancy LeaMond, their Chief Advocacy and Engagement Officer, said:
"AARP is pleased to endorse the Credit for Caring Act and appreciates the bipartisan leadership of the bill's Senate and House sponsors to support family caregivers. Nationwide, 40 million family caregivers are assisting loved ones so they can stay in their homes and communities. In 2016, family caregivers spent an average of 20 percent of their income, or nearly $7,000, on care-related expenses. The Credit for Caring Act would provide some much-needed financial relief to eligible family caregivers. We look forward to working with the bill's sponsors and Congress to enact this important legislation."
Senator Ernst joined Harris Faulkner on Fox News to discuss the Credit for Caring Act. Click here or the image below to watch her interview.
Cracking Down on Illegal Robocalls
Throughout her 99 County Tour town hall meetings, Senator Ernst has heard from countless Iowans about intrusive and illegal robocalls. Senator Ernst is cosponsoring bipartisan legislation to help authorities better enforce the rules on the books against these predatory robocall scammers.
The bipartisan TRACED Act—or Telephone Robocall Abuse Criminal Enforcement and Deterrence Act—would provide regulators and law enforcement additional tools to prevent illegal robocalls, punish illegal robocallers, and provide consumers with additional means of avoiding "neighborhood spoofing" calls, where illegal robocalls are configured in such a way that caller ID lists them as a local number.
Radio Iowa and the Osceola Sentinel-Tribune covered Senator Ernst's efforts to crack down on illegal robocall scammers.
Honoring Iowa's Servicemembers
During National Military Appreciation Month, Senator Ernst—a combat veteran and chairman of the Senate Armed Services Subcommittee on Emerging Threats and Capabilities—spoke on the Senate floor to recognize the contributions of Iowa's servicemembers and veterans, and to highlight the initiatives she is working on to support them and their families.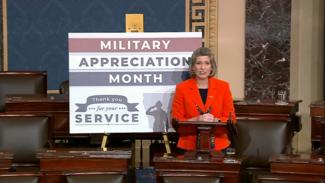 Click here or the image above to watch Senator Ernst's speech.
Providing Greater Broadband Access to Iowa's Rural Communities
Senator Ernst continues to fight for rural communities across Iowa, this time focusing her efforts on expanding access to quality broadband by cutting regulatory red tape for rural telecommunications providers. Ernst's bipartisan bill, ACCESS Rural America, would allow Iowa's rural telecommunications providers to submit streamlined financial reports to the Securities and Exchange Commission (SEC).
Iowa Telecommunications Alliance supports the bill. Dave Duncan, their CEO, stated:
"We thank Senator Ernst for her continuous efforts to eliminate burdensome Federal requirements that impede rural Broadband deployment. Thank you Senator Ernst for supporting Iowa's locally owned and operated broadband service providers. We look forward to working together for successful passage of this important legislation."
Communicating Priorities
###