Press Releases
WASHINGTON – U.S. Senator Joni Ernst (R-IA) has continued her 99 County Tour across the state to hear directly from Iowans about the issues that are most important to them. In the last two weeks, Ernst visited over two dozen counties, hearing from health care professionals, farmers, nonprofit organizations, steel workers, manufacturers, medical providers, and so many more Iowans to discuss how she continues support them during COVID-19.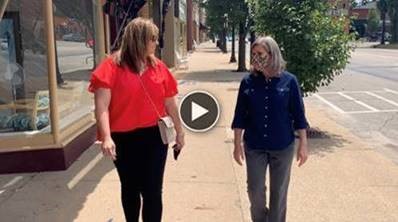 Click here or on the image above to watch a video recap of Senator Ernst's stops.
"One of the key parts of my job as a United States Senator is hearing directly from Iowans about the issues that impact their everyday lives," Senator Ernst said. "As I continue my 99 County Tour across Iowa, I am working to ensure our families, essential workers, small businesses, farmers, and kiddos have the support they need during these challenging times."
Background:
During her visits, Ernst met with health care providers and essential workers on the frontlines of COVID-19 and heard how they have benefitted from the COVID-19 relief she helped provide, like the Paycheck Protection Program (PPP). In Dickinson County, Ernst discussed her work to expand access to telehealth services to ensure Iowans receive they care they need beyond the pandemic. Ernst met with local leaders in Ringgold and Van Buren Counties to hear about the importance of ensuring working families have access to quality, affordable child care.
In Woodbury, Plymouth, O'Brien, Jasper, and Emmet Counties, Ernst had the opportunity to hear from small businesses and local leaders and discussed her continued efforts to support Iowa's workers and local businesses. The senator also highlighted her priorities for the next COVID-19 relief package – including her proposal to allow essential workers to keep more of their hard-earned dollars. Throughout her 99 County Tour stops, Senator Ernst has continued to hear from biofuel producers about the importance of renewable fuels for the state and nation, including at her stop in Palo Alto County with a local biofuel producer.
Iowa's livestock and poultry producers have also faced serious challenges during the pandemic. In Sioux and Delaware Counties, Ernst heard from farmers about the impact of COVID-19 on their production and highlighted her work to secure additional relief for Iowa's producers so they can maintain a secure food supply chain.
###