Press Releases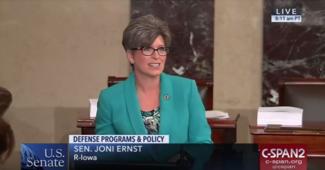 U.S. Senator Joni Ernst (R-IA), a combat veteran and Chairman of the Senate Armed Services Subcommittee on Emerging Threats and Capabilities, today delivered remarks on the Senate floor urging her colleagues to support the FY 2018 National Defense Authorization Act (NDAA).
The FY 2018 NDAA unanimously passed out of the Senate Armed Services Committee on June 28, 2017, and included 35 of the Iowa Senator's provisions.
Click here or the image above to watch Senator Ernst's remarks.
The following is the full text of Senator Ernst's remarks:
"Mr. President,
"Throughout my time as a Senator, I have heard our service chiefs testify, time and again, to the hollowing of America's military as a result of insufficient and unpredictable funding. Simultaneously, external dangers have grown in size and scope.
"Now, sadly, for the first time in decades, we are forced to confront, not one, but multiple existential threats to the American way of life. An aggressive Russia, expanding China, nuclear North Korea, nefarious Iran, and relentless global terror networks put our lives, and the lives of future generations, at risk.
"America is once again in crisis. Inaction, obstruction, or partial commitments are not options.
"This year's National Defense Authorization Act provides us an opportunity to fulfill our duty – to provide America's Soldiers, Sailors, Airmen, Marines, and Guardsmen the tools they need to accomplish all that we demand.
"I find it particularly fitting this bill came to the floor the week of September 11th – an anniversary of unparalleled adversity, but also one of national unity. On that day, and the days that followed sixteen years ago, the best of America eclipsed the evil of terror. We came together for the sake of our security, demonstrating to the world, America's resilience.
"There is no greater symbol of that resilience than those who serve in uniform. Secretary Mattis reminded us of that on Monday when he said, 'the men and women of America's armed forces have signed a blank check – to protect the American people and to defend the Constitution – a check payable with their lives.'
"The least the Senate can do in return is authorize and prioritize Congressional efforts to keep faith with that promise.
"At the same time, we are under no obligation to fund over-budget, behind timeline Defense programs with a blank check of their own. To the contrary, we have an oversight obligation to the American taxpayers, those in and out of uniform, to ensure proper stewardship of their hard-earned dollars.
"That is why I, along with my colleagues on the Armed Services Committee, crafted and passed unanimously the bill before you. In it, we have prescribed a clear and comprehensive plan to rebuild our military to decisively deter or defeat any adversary. However, we are also holding the Department accountable for each dollar it spends.
"For my part, as a member of the Armed Services Committee and Chair of the Emerging Threats and Capabilities subcommittee, I focused on three priorities:
"First, I supported our troops and their families by making senior enlisted pay scales commensurate with job requirements, by combating sexual assault and retaliation, and by facilitating federal direct hiring authority for military spouses. I extended that support to the battlefield by promoting enhanced standards for things like parachutes, aircraft life support systems, and counter-drone technologies.
"Second, I advanced policy initiatives to increase cooperation with international partners, to codify a more comprehensive counter-terror strategy, and to reaffirm America's support for our European friends by putting Russia on notice for its aggression in Ukraine and Crimea.
"Finally, I included measures to optimize existing institutions, such as our National Guard's cyber capabilities, and to ease regulatory burdens, so the best ideas and products from our universities and private companies can bolster national security at a lower cost.
"I have led important efforts to hold DoD accountable by requiring enhanced program management standards, and by joining Senators Grassley and Perdue in demanding the Department finally meet its 26-year overdue statutory obligation to complete a clean audit.
"Colleagues, let us be clear, no one wants America's military to be our first, or only, option. But we must also acknowledge this truth – it is fundamental to our security that a ready military remains an option.
"The FY18 NDAA is a vital step towards providing that security. Seeing it through to fruition, as part of a larger effort to re-assert our 'power of the purse', that's the next step. There will be time to debate non-defense policies and budgets later – and, as legislators, our job is to have these very debates.
"Let us take the first step now, and I urge all of my colleagues – to support the NDAA. Follow through in the months ahead. Fulfill our obligation to realize its goal. We can do no less.
"Thank you, Mr. President. I yield the floor and note the absence of a quorum."