Press Releases
WASHINGTON, D.C. – Today, U.S. Senator Joni Ernst (R-IA), a member of the Senate Environment and Public Works Committee, questioned the Commanding General and Chief of Engineers of the U.S. Army Corps of Engineers (USACE), Lieutenant General Semonite, on the status of necessary funding for the Cedar Rapids Flood Mitigation Project following unprecedented flooding in 2008 and 2016.
Senator Ernst asked Lieutenant General Semonite for an update on the USACE's budget submission process and for his commitment to thoughtfully consider the Cedar Rapids project, given it was authorized in 2014 and Congress mentioned the project for prioritization in 2016. While Lieutenant General Semonite said Senator Ernst raised good points, he stated there was no guarantee that what he puts in the budget will ultimately be approved.
Senator Ernst stressed that "we'll continue working on this issue. Again, it's very important, not just for the Cedar Rapids flood mitigation project, but for so many of those other projects that are authorized, but continue to hang out there."
This follows a recent meeting organized by Senator Ernst with Office of Management and Budget Director Mick Mulvaney on flood mitigation.
Click here or on the image below to watch Senator Ernst's questioning of Lieutenant General Semonite.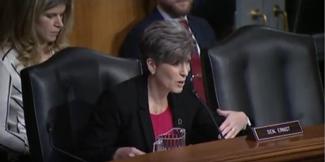 Below is the full text of Senator Ernst's questions and Lieutenant General Semonite's responses:
Senator Ernst: "Thank you Mr. Chair, and Senator Markey, thank you for bringing up the budget. I think this is going to be an area that we really do need to work through and so my line of questioning will be a little different, but it does focus on budget and funding issues.
"General, thank you for appearing for a second time in a month in front of this committee, I am greatly appreciative and I'm sure you know where my questioning will go this morning. It is really good to have you here, we've had many discussions over the course of the past several months.
"I wanted to take the time today to just reemphasize the flood mitigation projects that we have hanging out there. One of those is in Iowa in Cedar Rapids, and thank you again for participating in those discussions with me.
"On Monday, I met with OMB Director Mulvaney, alongside Senator Grassley and Congressman Blum, to talk about the Cedar Rapids flood mitigation project and how important that is for our state. And I know that you're aware of it, I appreciate your work on this with me and it's my understanding when we visited with Director Mulvaney, it's my understanding, that the Corps as of Monday had not yet submitted their budget to the OMB for Fiscal Year '18. Is that correct?"
Lieutenant General Semonite: "So, ma'am, we got guidance about three weeks ago. We've been cranking hard all the way though that and then we provided our update to the Assistant Secretary of the Army on Monday. That budget is being worked right now at the senior levels of the Army and then it will go into OMB on this Friday. That is the current timeline."
Senator Ernst: "Excellent. Thanks, General."
Lieutenant General Semonite: "So, the short answer is we have submitted it to our higher level, but it has not been submitted to the OMB."
Senator Ernst: "OK, thank you very much for that. The Cedar Rapids project was authorized in 2014 and WRDA 2016 directed the Corps to prioritize funding and expedite completion of the Cedar Rapids Project. And I also received a hand-written note from you on January 30th that said you and the Corps agree in the risk to Iowa citizens and that you will pursue all possible options to support this critical project, and I do ask that you carefully consider all of these provisions when making your determinations going forward in the budget. Will you do that?"
Lieutenant General Semonite: "Yes, ma'am. Unfortunately though, as you're probably aware, and some of the people have already highlighted this here, there could be potential cuts to the Civil Works Account based on what was in the President's initial proposal, so we'll have to see how that plays out and our ability to be able to then fund all of those critical priorities."
Senator Ernst: "Thank you. And will you commit to work to solve this particular issue expeditiously and to work with myself and the OMB to modify the metrics that the Corps utilizes so we can stop discounting the rural areas, such as Iowa and other Midwestern areas that have lower property values?"
Lieutenant General Semonite: "Senator, you and I have talked about that in the past and you have some very good points on property values and economic values. I think we want to continue to try to make sure that the processes that are used to be able to support the priorities of the Corps budget are the same things that come back out of the budget on the other end. I can't guarantee you, though, that what I put in the budget is necessarily what is going to ultimately be approved."
Senator Ernst: "Well, we'll continue working on this issue. Again, it's very important, not just for the Cedar Rapids flood mitigation project, but for so many of those other projects that are authorized, but continue to hang out there. So General, I thank you for your work. Thank you, Mr. Chair."