Press Releases
The Iowa Senator also commended the efforts of the Corps in helping her secure funds for the Cedar Rapids flood mitigation project
Oct

28

2019
WASHINGTON—At a Senate Environment and Public Works Committee hearing last week, Senator Joni Ernst (R-IA), a native of Southwest Iowa, continued to press the Army Corps of Engineers (Corps) on their efforts to rebuild levees damaged during last year's flooding, and their work to improve flood protection infrastructure to combat future flooding.
Senator Ernst commended Lieutenant General Todd Seminite for his efforts in helping her secure funds for the Cedar Rapids flood mitigation project, and asked for an update on the Corps' progress repairing damaged levees in Southwest Iowa. Senator Ernst also outlined the negative effect the benefit-to-cost ratio has on rural communities and called on the Corps to adjust it. In addition, Ernst discussed the current flood situation in Hamburg, Iowa, and asked for recommendations for policy changes to improve flood protection in small communities like Hamburg.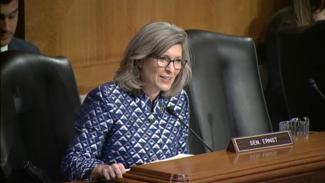 Click here or the image above to watch Senator Ernst's questioning.
###