Press Releases
"With flooding across our state, Governor Reynolds and local first responders are working hard to get communities resources they need. I share Governor Reynolds commitment to Iowans affected by flooding and encourage people to follow the advice of local first responders," Senator Joni Ernst.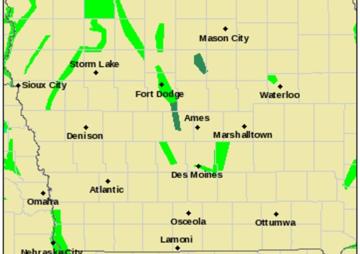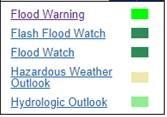 (photo from the National Weather Service)
Resources on Flooding in Iowa
Preparation:
Alerts:
Additional Information from Federal Emergency Management Agency (FEMA):
Be Informed/Know the Danger:
Keep track of severe weather and flood forecasts, and take them seriously. To do that:
Monitor newspaper, radio and TV reports of current and predicted weather conditions;
Keep a NOAA Weather radio turned on and charged up to get alerts around the clock;
Set mobile devices to alert with the latest weather information. Make it easy by downloading and using a free FEMA app, which provides real-time weather alerts from the National Weather Service for up to five locations anywhere in Iowa or the nation. The app also provides valuable safety tips to help families prepare for, and recover from, more than 20 natural and man-made hazards, including how to make a family communication plans, a customizable checklist of emergency supplies and maps of open shelters and disaster recovery centers.
Plan for the Worst:
Severe weather can strike suddenly so have a plan to stay safe and take life-saving action if needed. The plan should include:
Actions to take if it's necessary to shelter-in-place;
Where each person/pet will go to get out of danger;
How each person/pet will get to a place of safety;
How family and friends will communicate with one another if evacuation to or from different locations becomes necessary.
For more information on creating an emergency plan, visit www.Ready.gov or www.beready.iowa.gov.
Be Ready:
Gather essential items in one place if evacuation is needed. Those should include:
Wallets, purses, car/house keys, eyeglasses, cash, credit cards;
Medicine and basic first-aid supplies;
Daily living supplies for infants/young children, family members who are elderly or have access and functional needs, and pets;
Important information such as numbers for bank accounts, insurance policies (health, auto and property) and credit cards;
Important phone numbers of relatives, employers, schools and medical professionals such as pharmacies, physicians and veterinarians;
Chargers for mobile devices;
One or more changes of clothes. Include long pants, socks, boots and/or sturdy shoes;
Bottled water and high-protein, non-perishable food such as a peanut butter, tuna and nuts.
Talk through the emergency plan with all family members so that everyone knows what to do.
If there is time, consider making a more complete emergency supply kit for homes and cars. To learn how, visit www.Ready.gov or www.beready.iowa.gov.
Know What to Do:
Understand severe weather terms and know what to do for each.
Watch means a specific type of threat (flooding, tornadoes) could be forming;
Warning means take action. Life/property threatening conditions are occurring or imminent.
Heed emergency instructions. If told to evacuate, go immediately!
Move immediately to higher ground if flash flooding is possible. Don't wait to be told. DO NOT DRIVE THROUGH FLOOD WATER, even if you know the road. Turn around, don't drown!
Abandon mobile homes. They offer little to no protection, even if tied down.
Don't touch downed power lines or objects in contact with downed lines. Report electrical hazards, downed lines and gas leaks to the police and utility companies.
Don't re-enter damaged structures without first checking to see if they are safe.