Press Releases
Increasing Flood Protection and Support for Iowa's Communities
In the wake of this spring's devastating floods, this week Senator Ernst put forward bipartisan legislation to help communities, like Hamburg, Iowa, make temporary flood protection structures permanent. Earlier this year, Senator Ernst chaired a Senate Environment and Public Works (EPW) Committee field hearing in southwest Iowa where she questioned U.S. Army Corps of Engineers (the Corps) witnesses on their management of the river and heard from local stakeholders, including Cathy Crain, the Mayor of Hamburg, who described her community's struggles to make their heightened levee permanent.
Providing Servicemembers with Much-Needed Resources
On Tuesday, Senator Ernst proudly supported the Fiscal Year 2020 National Defense Authorization Act (NDAA). The final bipartisan, bicameral defense bill includes nearly all of Senator Ernst's priorities, including her proposals to address military sexual assault, to improve Iowa's critical contributions to our nation's defense, and to invest in technological advancements to keep America ahead of our adversaries.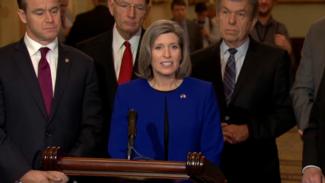 Click here or the image above to watch Senator Ernst's remarks on the NDAA.
Pressing DOJ for Updates on Glenwood and Woodward Resource Center Investigation
As the Department of Justice (DOJ) investigates disturbing allegations of federal rights violations at the Glenwood Resource Center and the Woodward Resource Center, Senator Ernst is requesting regular updates on the status of their investigation and that information on potential violations be provided immediately.
In a letter to Attorney General William Barr and Assistant Attorney General Eric S. Drelband, Senator Ernst asked:
When did the Department of Justice first became aware of this alarming increase in reported deaths at the Glenwood Resource Center?
What prevented the Department from initiating this investigation more quickly?
WHO Radio covered the Senator's efforts. Click here or on the image above to listen.
Combatting the Opioid and Meth Crisis
With Congress dedicating nearly $11 billion to tackle the opioid crisis to date, Senator Joni Ernst chaired a Senate Judiciary Committee hearing this week focused on examining the federal government's strategy for combating the epidemic, including the daunting rates of methamphetamine abuse in Iowa in particular, and to conduct oversight on the nation's top agencies and departments tasked with the job.
Click here or on the image above to watch Senator Ernst's opening remarks.
Senator Ernst also joined her colleagues, Senators Shelley Moore Capito (R-WV) and Doug Jones (D-AL), in introducing a bipartisan bill to provide more non-opioid pain treatment options for Medicare beneficiaries, to help prevent abuse. The NOPAIN Act—or the Non-Opioids Prevent Addiction in the Nation Act—would help alleviate barriers for Medicare beneficiaries to use non-opioid pain management alternatives.
Pushing EPA to Uphold RFS: 15 Billion Gallons
This week, the EPA issued their final rule to establish the required renewable volumes under the Renewable Fuel Standard (RFS) program for 2020 and the biomass-based diesel volume for 2021. Senator Ernst, a tireless advocate for Iowa's renewable fuels industry, issued the following statement: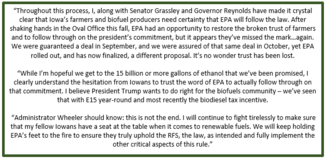 Social Media Highlights
Click here or the image above to watch a video of Senator Ernst highlighting the one-year anniversary of the 2018 Farm Bill.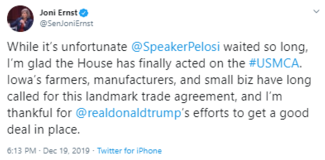 ###