Press Releases
WASHINGTON – U.S. Senator Joni Ernst (R-IA) has released a video recognizing the important step the United States Senate took yesterday when they unanimously approved the bipartisan Congressional Accountability Act of 1995 Reform Act.
Click here or on the image below to watch.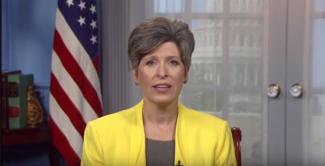 The full transcript of the senator's remarks can be found below.
Hi, this is Joni Ernst, a senator representing the great state of Iowa.
Yesterday, the United States Senate took a very important step forward when we unanimously approved bipartisan legislation to protect victims of workplace harassment and discrimination in Congress.
There is no place for sexual harassment on our college campuses, in our workplace, our gyms, our military – or anywhere else.
Victims are coming forward and making their voices heard, and it is critical that we take action now to protect and defend them.
It is critical that Congress has zero tolerance for this type of inappropriate behavior in our society.
Earlier this year, I joined all 21 of my fellow female Senate colleagues to urge Senate leadership to bring critical legislation, such as the Congressional Accountability Act of 1995 Reform Act, to the floor.
This bipartisan legislation takes the necessary steps to provide victims with greater protections and options, holds members of Congress personally liable for their wrongdoings, and protects taxpayer dollars.
I am proud to join my colleagues to ensure that members of the Senate, their staffs, and all employees of the legislative branch, are provided with the necessary training on prevention and reporting procedures to combat sexual harassment in the workplace.
While this is an important step forward, we have a long road ahead to rid society of such inappropriate and disgusting behavior.
We must remain committed to doing our part to combat and prevent sexual harassment, assault, and abuse in all facets of our society.
Thank you.