Press Releases
Highlighting Iowa's Small Businesses
This week was National Small Business Week! In Iowa, a staggering 99% of the businesses are small businesses. As a member of the Senate Small Business and Entrepreneurship Committee, Senator Ernst continued to fight for small businesses by reintroducing her bipartisan bill, the Prove It Act.
Click here or on the image above to watch Senator Ernst's comments on National Small Business Week.
Ernst partnered with Democratic Senator Kyrsten Sinema (D-AZ) on the Prove It Act, which would give small businesses a stronger voice in Washington's complex rulemaking process by allowing the small business community to send federal agencies back to the drawing board to "prove" that a rule or regulation won't have a significant impact on them.
Senator Ernst also spoke on the Senate floor about the critical role Iowa's small businesses play in our booming economy, and the legislation she is working to support these local job creators.
Click here or on the image above to watch Senator Ernst's floor speech.
In addition, Senator Ernst put forward a bipartisan bill with Democratic Senator Martin Heinrich (D-NM) aimed at helping provide additional opportunities for small businesses, in Iowa and across the country, to contract with government agencies, specifically the U.S. Department of Defense (DoD).
Ernst capped-off National Small Business Week by announcing that Brunow Contracting of Council Bluffs, Iowa was named the Senate Small Business Committee's "Small Business of the Day." She recognized this woman-owned small business in the Congressional Record of the Senate.
"It's crap!" – Ernst Decries Anti-Competitive Drug Pricing Practices
Senator Ernst is hearing from countless folks across Iowa on her 99 County Tour about the need to reduce the costs of prescription drugs. This week during a Senate Judiciary Committee hearing, she made Iowans' voices known by decrying anti-competitive practices that deny patients affordable alternatives.
Click here or on the image above to watch Ernst's remarks at the Judiciary Hearing.
During the hearing, Ernst highlighted a number of her legislative efforts to ensure robust competition in the market and lower the cost of prescription drugs for Iowans. She specifically discussed her bill with Senator Tom Cotton (R-AR), the Preserving Access to Cost Effective Drugs (PACED) Act, which would promote greater competition and prohibit sham transactions, like in 2017 when pharmaceutical giant Allergan attempted to shield the patent for one of their drugs by paying off a Native American tribe to take "ownership" of their patents.
"Ernst: 'For some Iowans it's about deciding whether they make a mortgage payment, a car payment, or actually purchase their medication.'"
Calling for Better Communication with Army Corps
Following up on the Senate Environment and Public Works Committee field hearing she hosted in Glenwood last month, Senator Ernst this week questioned the Army Corps of Engineers on the recovery effort and their river management policies in the wake of the March flooding in Southwest Iowa, specifically with regard to repairing and rebuilding the levees that were compromised.
Click here or on the image above to watch Senator Ernst question Corps officials.
Focusing on Flood Relief Efforts
In case you missed it, Senator Ernst penned an op-ed in the Des Moines Register about the need for Congress to deliver disaster aid to Iowans and for the Army Corps to better communicate with local levee sponsors and those in harm's way, in order to reduce the severity of future flood events.
In addition, on Friday, Senator Ernst was on-the-ground in Davenport and Buffalo touring the flood damage and meeting with local and state leaders.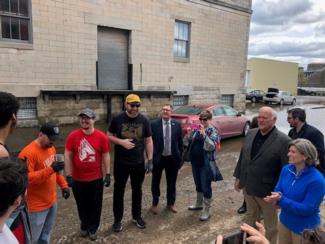 Communicating Priorities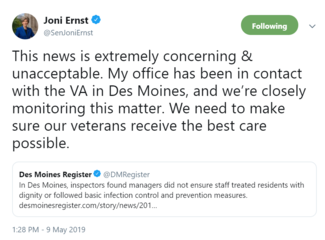 ###