Press Releases
The Iowa Senator is a cosponsor of legislation that will increase competition and drive down drug prices for Iowans
Jun

28

2019
WASHINGTON—U.S. Senator Joni Ernst (R-IA) has successfully advanced three pieces of legislation aimed at lowering the costs of prescription drugs through Senate committees, moving them one step closer to becoming law.
"When I'm out and about across Iowa on my 99 County Tour or meeting with folks in my office in DC, I consistently hear from Iowans about the soaring costs of health care, specifically their prescription drugs. This is an issue that impacts all Iowans, but especially our elderly and hardworking families living on a fixed income. But there's good news: in the Senate, we're taking action. I'm proud to lead on these important bills that will increase competition, drive down drug prices, and close loopholes that allow bad actors to take advantage of the system," said Senator Joni Ernst.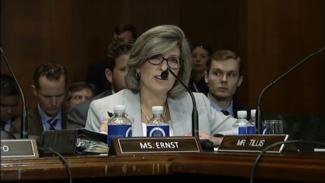 Click here or on the image above to watch Ernst's remarks on her prescription drug pricing legislation at a Judiciary Committee hearing.
On Thursday, the Senate Judiciary Committee passed two bills cosponsored by Senator Ernst:
The Preserving Access to Cost Effective Drugs (PACED) Act, led by Senators Ernst and Tom Cotton (R-AR), would remove a loophole in the patenting process which allows manipulators to pay Native American tribes to take "ownership" of their patents, thereby allowing the tribes to claim sovereign immunity and avoid review in the case of a dispute. The PACED Act restores the power of the U.S. Patent and Trademark Office, federal courts, and the International Trade Commission to review patents regardless of sovereign immunity claims made as part of questionable transactions.
The Prescription Pricing for the People Act would crack down on anti-competitive practices in the drug supply chain. The bill directs the Federal Trade Commission (FTC) to examine merger activity of pharmacy benefit managers (PBMs) and potential anti-competitive behavior. It provides more transparency on the impact of consolidation on pricing and directs the FTC to communicate policy recommendations to Congress to help foster competition.
Earlier this week, the Senate Committee on Health, Education, Labor, and Pensions passed another bill cosponsored by Ernst, the Creating and Restoring Equal Access To Equivalent Samples (CREATES) Act. This bipartisan and bicameral bill would prevent brand-name pharmaceutical and biologic companies from stifling competition by blocking the entry of lower-cost generic drugs into the market.
###