Press Releases
Senate Passes Disaster Relief for Iowans, Aid for Lost Stored Grain
On Thursday, Senator Joni Ernst, who has worked tirelessly to provide aid to Iowans in the wake of the spring flooding, voted for and helped pass a bipartisan disaster relief package in the U.S. Senate that will deliver desperately needed aid to folks in Iowa and across the country.
Senator Ernst meets with community members in Southwest Iowa in April along with Vice President Mike Pence, Governor Kim Reynolds, and others.
Senator Ernst worked hard to include a provision into the disaster relief package that would extend federal aid from the U.S. Department of Agriculture (USDA) to include crops that are already harvested and stored, such as grain. Currently, there are no federal disaster programs that cover the loss of grain that was being stored on farms. The provision Senator Ernst helped include would give the USDA the authority to cover farmers who lost stored grain from the floods.
Making Washington Squeal
Senator Ernst continues to hold Washington accountable with her "Make 'em Squeal" efforts, this time taking aim at out-of-control spending at the Department of Defense (DoD).
Her May Squeal Award goes to the Pentagon for several instances of wasteful projects, like a $3.85 million study to examine the fictional comic book character Spider-Man's "Spidey Sense" and a $209,000 study from the Navy to measure the "sociability" of different breeds of puppies, to name a few.
To shed some light on wasteful federal spending, Senator Ernst included a measure to the annual defense bill, similar to her COST Act, requiring the DoD to put an easy-to-find price tag on its projects, so taxpayers can have a better idea of where their money is going and the Pentagon can spend more wisely on our national security priorities.
As a combat veteran, one of Senator Ernst's key priorities is to make sure our nation's military has the resources to perform its critical duty in protecting our homeland. This includes making sure no tax dollar sent to the DoD goes to waste.
Prioritizing Military Sexual Assault, Support for Troops, and Fiscal Responsibility in Annual Defense Bill
Senate Ernst, the chairman of the Senate Armed Services Subcommittee on Emerging Threats and Capabilities, was successful in getting more than 50 of her provisions included in the annual defense bill, the National Defense Authorization Act (NDAA), which passed out of committee and will proceed to a full vote in the Senate.
Senator Ernst's provisions in the bipartisan NDAA build off her past work on confronting military sexual violence and treating blast exposure injuries. This includes Ernst's efforts with Democratic Senator Kirsten Gillibrand to expand support for victims of military sexual assault and domestic violence and to provide senior commanders with more oversight responsibilities to most effectively prosecute these serious offenses.
In case you missed it, the Washington Post covered Senator Ernst's bipartisan work to help prevent military sexual assault:
The annual defense bill also includes Senator Ernst's bipartisan provision, which she worked on with Democratic Senator Elizabeth Warren (D-MA), to improve research on Traumatic Brain Injury (TBI) among servicemembers and strengthen the capacity to track and mitigate injuries caused by blast pressure exposure.
Ensuring Proper Care for Iowa Veterans
Senator Ernst, a combat veteran, spoke at a Senate Veterans Affairs Committee hearing on Wednesday to urge support for her legislation that ensures veterans are given the care they deserve.
At the hearing, Ernst told the story of Iowa veteran Anthony French, who, while suffering from a brain tumor in 2017, received improper care from a VA provider with a history of substandard care, including having his license revoked in another state due to malpractice.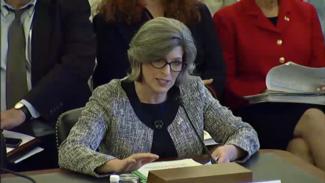 Click here or the image above to watch Senator Ernst's remarks.
Senator Ernst's bill, the Ensuring Quality Care for Our Veterans Act, requires every health care provider hired by the Department of Veterans Affairs (VA) with a revoked license to undergo a third party review of that provider's care. If the review determines that a competent practitioner would have managed the veteran's care differently, the veteran will be notified.
Communicating Priorities
###