Press Releases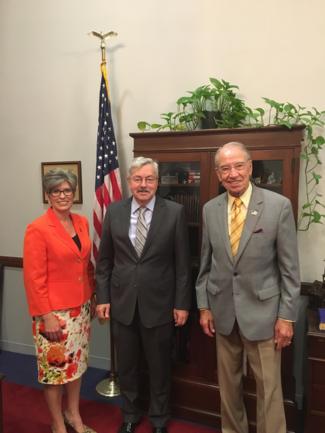 WASHINGTON – Iowa's U.S. Sens. Joni Ernst and Chuck Grassley met with U.S. Ambassador to China and former Iowa Governor Terry Branstad yesterday in Washington, D.C. The discussion included issues such as the relationship between the United States and China, security in East Asia and ongoing developments regarding North Korea.
One topic of concern was trade between the United States and China, and the impact tariffs will have on Iowa agriculture. Another focus of the meeting was production of the deadly drug fentanyl in China and its increasing consumption in America as the country faces a growing opioid, heroin and fentanyl epidemic.
"Ambassador Branstad has done a wonderful job representing our country in China, particularly as it relates to the agricultural and trade issues that so strongly affect Iowans," Ernst said. "I was also pleased to get his input on the situation with North Korea, and the work our government is doing in the region to combat the production of the deadly and highly addictive drug fentanyl that devastates the lives of so many in the U.S. I thank Ambassador Branstad for his time to update Senator Grassley and me on his efforts, and look forward to continue working with him to ensure Iowans' and Americans' interests are protected."
"It's always a pleasure to meet with my longtime friend and colleague Ambassador Branstad. He brings a steady hand and commonsense leadership to the complicated issues that face U.S. agriculture and so many other priorities," Grassley said. "His efforts benefit Iowa and the nation and I look forward to continuing to work with him as we confront challenges in the East Asia region."
Ernst's tweet about the meeting is available here. Grassley's Instagram post is available here and his tweet is available here.