Press Releases
Iowans representing Central Iowa Power Cooperative (Des Moines) and Iowa Western Community College (Council Bluffs) testified before the subcommittee.
Jun

22

2021
WASHINGTON—U.S. Senator Joni Ernst (R-Iowa), the top Republican on the Senate Agriculture Nutrition, & Forestry Subcommittee on Rural Development and Energy, helped lead a hearing today focused on renewable energy and opportunities for Iowa's rural economies.
Ernst was joined by two Iowans, Bill Cherrier, Executive Vice President and CEO, Central Iowa Power Cooperative, from Des Moines, and Matthew Mancuso, Dean, Industrial Technology, Iowa Western Community College, from Council Bluffs, who testified before the subcommittee.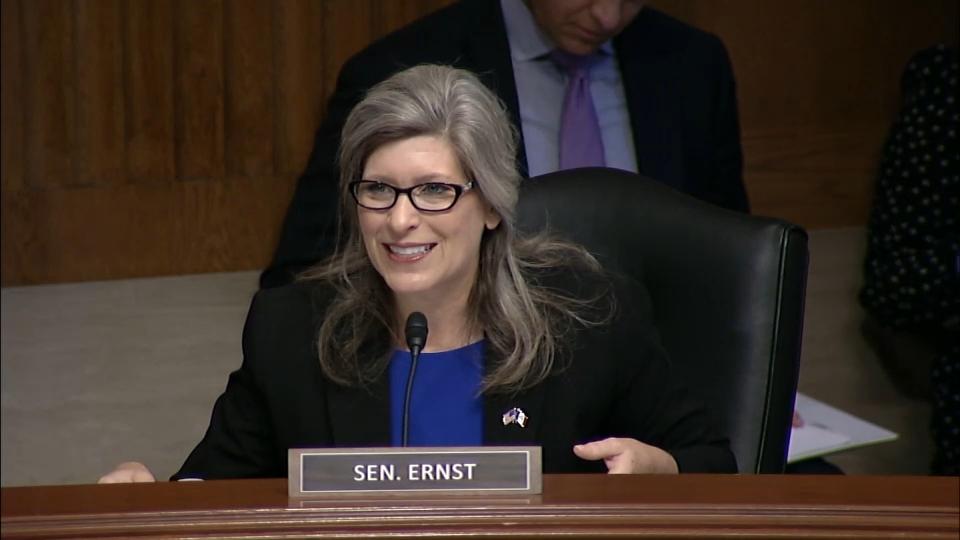 Click
here
or on the image above to watch Ernst's opening remarks.
In her opening remarks, Ernst emphasized Iowa's status as a national leader in renewable energy—including as the top ethanol and biodiesel producer in the country and the second largest producer of wind energy in the country. Ernst also highlighted the leading academic institutions in her state offering programs to Iowans and students across the country looking to pursue careers in the installation and maintenance of renewable energy systems.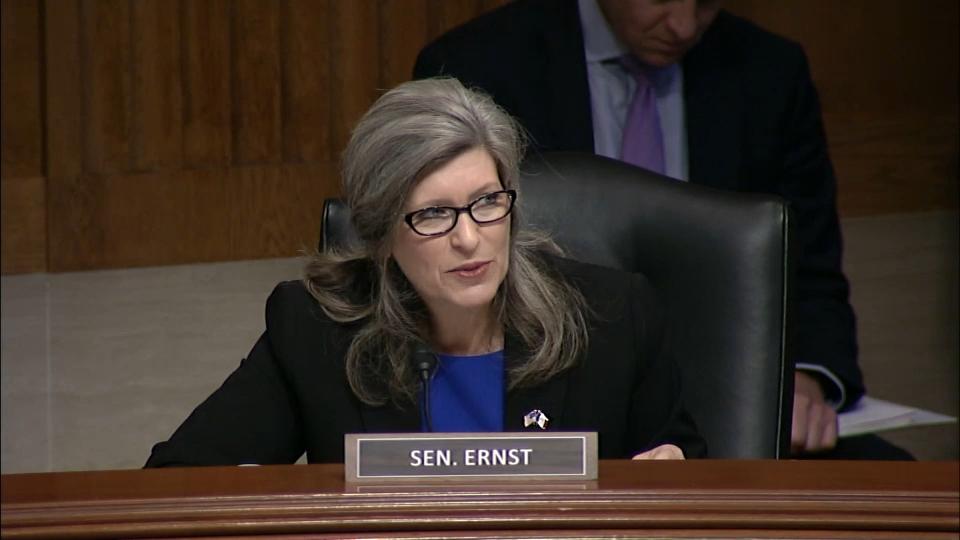 Click
here
or on the image above to watch Ernst's questioning.
During her questioning, Ernst asked Bill Cherrier of Des Moines about the Biden Administration's plans to retire fossil fuel burning power plants and the importance of ensuring that any plans to retire any baseload capacity be done through incentives and not through overly burdensome regulation. Ernst argued that excessive regulations could result in stranded assets and risk electric coops'

ability to continue providing reliable, affordable energy to rural communities across the country.
Ernst also asked Matthew Mancuso of Council Bluffs to share how wind energy developers in Iowa partner with farmers and other land owners on the siting of wind farms, and how this can serve as an additional revenue source for agriculture producers.
###