Press Releases
Speaking with members of the press today, Ernst also highlighted her ongoing efforts during COVID-19 to secure our food supply chain, increase access to broadband, and decrease US dependency on China.
Jun

02

2020
WASHINGTON—U.S. Senator Joni Ernst (R-IA) today said her "heart hurts" following the murder of George Floyd and recent events across the country. Ernst also called on folks to come together and lift up their communities, resolve differences, and ensure justice is served.
In addition, Ernst highlighted a number of issues the COVID-19 pandemic has brought to light and that she continues to work on, like securing the food supply chain, increasing access to broadband, and decreasing the United States' dependency on China.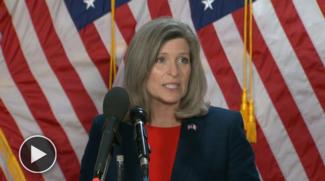 Click here or on the image above to watch Senator Ernst's remarks.
###