Press Releases
The Iowa senator commended President Trump for laying out a strong vision for the country that focuses on the issues affecting Iowans' lives
Feb

04

2020
WASHINGTON – Following the State of the Union Address delivered by President Donald J. Trump this evening, U.S. Senator Joni Ernst (R-IA) released the following statement:
"President Trump has kept his promises to the American people," said Senator Joni Ernst. "Tonight, the president laid out a strong vision for the country that focuses on the issues affecting the lives of Iowans across our state.
"From our booming economy—including critical trade deals and historic-low unemployment—to securing our border and maintaining a strong military; and from fighting for paid parental leave and quality child care, to lowering the cost prescription drugs, President Trump laid out a clear plan for supporting American workers and families.
"Tonight's address provoked a renewed sense of optimism, and I'm excited to build on these successes and continue fighting alongside this president on behalf of all hardworking Iowans."
**VIDEO: Click here or on the image below to download video of Senator Ernst's statement on the State of the Union Address.
**AUDIO: Click here to download audio of Senator Ernst's statement on the State of the Union Address.
State of the Union Guest:
Senator Ernst invited Iowa native Colonel Dave Trotter, U.S. Army as her guest. Colonel Trotter is the Executive Officer to the Commanding General of Army North (Fifth Army) and is a graduate from Iowa State University, where he and Senator Ernst were both in ROTC.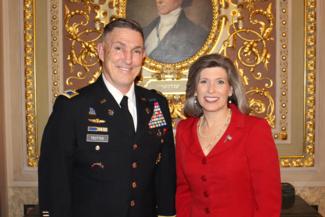 Colonel Dave Trotter, U.S. Army was Senator Ernst's guest for the State of the Union this evening.
Colonel Trotter is a native of Iowa growing up in Altoona, Iowa and graduating from East High School in Des Moines. He entered the US Army in 1983 from Iowa and has over 32 years of active duty service to our nation.
###