Press Releases
Fighting to Lower the Cost of Prescription Drugs for Iowa Families
Following a week of traveling across Iowa on her 99 County Tour and hearing from Iowans about the importance of lowering health care costs, this week Senator Ernst outlined the work she is doing to drive down the price of prescription drugs. On the Senate floor, she highlighted the stories of two Iowans struggling to keep up with their living expenses while affording their medications.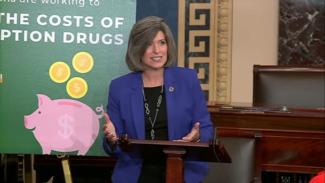 Click here or the photo above to watch Senator Ernst's remarks.
Senator Ernst has been helping lead the charge to increase competition, close loopholes, and drive down drug prices. Just recently, three of her bills advanced through Senate committees.
Working to Expand Access to Broadband for Rural Iowans
Continuing her efforts to expand access to broadband in rural areas in Iowa, Senator Ernst joined fellow Iowan Senator Chuck Grassley in sending a letter to Federal Communications Commission (FCC) Chairman Ajit Pai regarding the FCC's role in ensuring the accuracy of broadband maps.
In the letter, the Senators write, "According to your 2018 Broadband Deployment Report, more than three in four rural Iowans have access to broadband. More broadly, the report indicates that 90.5 percent of all Iowans have access to broadband. As much as we wish that were the case, we can tell you that the FCC data drastically overstates broadband access throughout our state."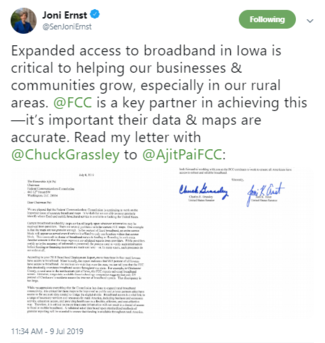 Senator Ernst has also put forward bipartisan legislation—known as the Access to Capital Creates Economic Strength and Supports (ACCESS) Rural America Act—to cut regulatory red tape for rural telecommunications providers.
Calling out EPA for Handing out Small Refinery Waivers Like 'Candy'
Senator Ernst, chairman of the Senate Agriculture Subcommittee on Energy and Rural Development and a member of the Senate Environment and Public Works Committee, and a tireless advocate for the ethanol industry, called out the Environmental Protection Agency (EPA) for its proposed rule that would set the minimum amount of renewable fuels that must be supplied to the market in 2020. Ernst stated that the proposed rule "simply does not account for the billions of gallons of ethanol our hardworking producers have lost to EPA's unrelenting habit of handing out 'so-called' small refinery exemptions."
Senator Ernst speaks with members of the Renewable Fuel Association.
This week, she met with members of the Renewable Fuel Association, including a number of Iowa-ethanol leaders, and discussed how she continues to fight to increase transparency at the EPA, and shed light on what's going on behind closed doors to ensure more predictability and accountability for Iowans.
Click here or the image above to read Ripon Advance's coverage of Ernst's pressure on the EPA
Ensuring Our Military is Equipped to Defend Against a Growing Array of Threats
Senator Ernst, the first female combat veteran elected to the Senate and chairman of the Senate Armed Services Subcommittee on Emerging Threats and Capabilities (ETC), led a hearing this week to continue her work to ensure our military is appropriately resourced, equipped, and postured to defend the nation against a growing array of threats, including China and Russia.
During her ETC Subcommittee hearing, Ernst outlined the importance of the oversight component of the committee to ensure proper implementation of the National Defense Strategy and questioned Commander of the U.S. Southern Command (SOUTHCOM), Admiral Craig Faller.
To watch Chairman Ernst's opening remarks, click here or the image above.
Communicating Priorities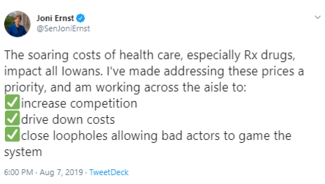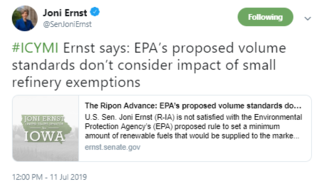 ###