Press Releases
WASHINGTON, D.C. – The Senate today voted to proceed with debate on U.S. Senator Joni Ernst's (R-IA) joint resolution of disapproval (S.J. Res. 22) to eliminate the expanded "Waters of the U.S." (WOTUS) rule. This resolution was taken up as the Senate continues to address legislation to tackle the overreaching and expanded definition of the WOTUS rule.
Earlier, the Senate considered Senator Barrasso's (R-WY) Federal Water Quality Protection Act (S.1140), which Senator Ernst cosponsored. Senator Barrasso's legislation provided clear principles and directions for the EPA to craft a WOTUS rule that takes into consideration positions held by farmers, ranchers, manufacturers and small businesses. However, Senate Democrats blocked this legislation.
The Senate in turn proceeded with consideration of Senator Ernst's resolution, which, if enacted into law, would scrap the expanded WOTUS rule. S.J. Res. 22 requires only a simple majority in order to pass.
"The expanded definition of WOTUS breeds confusion, uncertainty and more red tape. I am pleased that our proposal ensures every option is on the table to push back against the EPA's blatant power grab," said Senator Ernst. "Senate Democrats and President Obama will have an opportunity to stand on the side of our farmers, ranchers, manufacturers and small businesses who say this ill-conceived and overreaching rule must be stopped or they can continue to stand with an unchecked federal agency."
In September, Senator Ernst led a group of 49 fellow Senators in introducing a joint resolution of disapproval that would scrap this rule entirely. According to an analysis by the Iowa Farm Bureau, an expanded definition of the WOTUS rule would expand EPA jurisdiction to over approximately 97 percent of Iowa. See map below: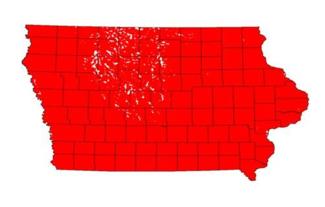 # # #