Press Releases
WASHINGTON – Today, Senator Joni Ernst (R-IA), expressed her continued support for Iowans, and everyone in the Midwest. Speaking to members of the press, Ernst discussed legislation that she is working on to provide relief to Iowans affected by the flooding.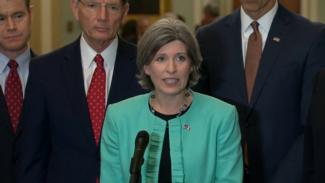 Click here or the image above to watch Senator Ernst's full remarks.
Background:
Senator Ernst is working with her fellow Iowan, Senator Chuck Grassley, on an amendment that will extend federal relief from the U.S. Department of Agriculture (UDSA) to cover Iowa farmers who have lost stored grain as a result of the disastrous flooding. In addition, Ernst is working on legislation that will provide tax relief to make it easier for Iowans to recover and rebuild.
For Iowans impacted by floods, there are many resources available. For a list highlighting resources for Iowa families, businesses, and farmers, as well as information about contacting Senator Ernst's office for assistance, click here.
###