Press Releases
In the Wake of Flooding, Iowans Stand Resilient
Many folks across Iowa are facing the harsh realities of the devastating floods that have wreaked havoc on homes, businesses, farmland and lives as a whole. Senator Ernst is doing everything she can to ensure Iowans get the help they need. Just last week she was on the ground meeting with constituents, local, state, and federal officials, and emergency management personnel to review and discuss the damage from the flooding.
The focus right now is on the recovery efforts, this includes getting the attention of federal lawmakers and raising awareness of what's going on back in Iowa. On Tuesday, Senator Ernst spoke on the Senate floor to do just that.
Click here or on the image above to watch the Senator's full speech.
Ernst's colleagues on the Senate Appropriations Committee expanded disaster aid eligibility so that Iowans impacted by the recent flooding can now benefit from parts of the $13.45 billion federal relief package that is being taken-up in the Senate. In addition, the senator sent a letter to U.S. Department of Agriculture (USDA) Secretary Sonny Perdue urging him to provide Livestock Indemnity Program assistance as quickly as possible.
Tournament of Government Waste
In the spirit of March Madness, Senator Ernst and her fellow lawmakers, Senators Mike Braun (R-IN), James Lankford (R-OK), and Rand Paul (R-KY), are participating in the Tournament of Government Waste. Each senator had four "team" entries competing through four rounds of elimination, with the champion being crowned on Monday, April 1 with the title of Waste of the Year.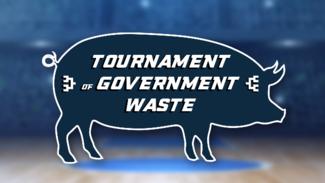 In case you missed it, Thursday morning Senator Ernst joined Fox and Friends to discuss the latest on the 'Tournament of Government Waste' as well as her common sense legislation that would create more transparency and accountability by requiring every project supported with federal funds to include a price tag that is easily available for taxpayers.
Click here or on the image above to watch the full interview.
Working for Women
Senator Ernst continues to be a voice for women. Speaking on the floor in honor of Women's History Month [add video link], Ernst outlined a number of important women in Iowa's history as well as her work on a number of women's initiatives.
On Thursday, Ernst announced that she is working across the aisle with Senators Cory Booker (R-NJ) and Richard Blumenthal (D-CT) on a bill to prohibit federal law enforcement officers, agents, or employees from using the consent defense loophole when accused of sexually assaulting someone in their custody.
Also this week, the senator introduced legislation to expand health care choices for women by increasing access to contraceptives over-the-counter (OTC) and without a prescription. The bill would also allow women to use health savings accounts to purchase OTC medications without a prescription. Governor Kim Reynolds (R-IA) has a similar bill at the state level and this week it passed the Iowa State Senate.
Senator Ernst sat down with Governor Reynolds last week to discuss their efforts to expand access to care for women.
Click here or on the image above to watch Senator Ernst's and Governor Reynolds' interview with KCCI.
Communicating Priorities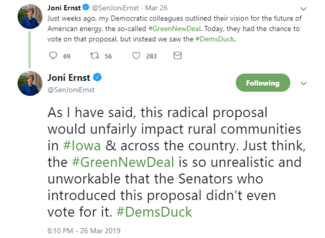 ###