Press Releases
Three public town hall meetings, including one in Polk County, and a number of meetings and visits with Iowans from all backgrounds, including small business leaders, farmers, health care professionals, and more, Senator Ernst continues to crisscross the state on her 99 County Tour.
Combatting Human Trafficking
Senator Ernst started last week with community leaders and employees from the American Hotel and Lodging Association and the Asian American Hotel Owners Association at their Human Trafficking Prevention Training Session in Des Moines. Senator Ernst discussed her work in the Senate to eliminate the opportunities to engage in human trafficking and bring more swift justice for victims. She also took part in a discussion with the group about ways we can continue to partner with industries and all levels of government to combat human trafficking.
Senator Ernst during the Q&A portion of the human trafficking event in Des Moines.
Hearing from Iowans in Decatur, Appanoose, and Davis Counties
In Decatur County, Senator Ernst visited with employees and health care leaders at the Leon branch of the Community Health Center of Southern Iowa. Here she toured the facility and sat down with members of the staff to learn more about their work to provide affordable and accessible health care to folks across Iowa.
Senator Ernst meets with staff at the Leon branch of the Community Health Centers of Southern Iowa.
In Appanoose County, Senator Ernst then hosted a town hall meeting in Centerville where she discussed the issues on the minds of constituents in the area—including her work to lower the cost of prescription drugs and the need to wrap up trade deals. After the town hall meeting, Senator Ernst was able to meet with Richard Southern, a veteran recently recognized by France for his heroic efforts on D-Day during World War II. Click here for a short video of Senator Ernst meeting Mr. Southern.
Senator Ernst and Richard Southern, a WWII veteran.
In Davis County, Senator Ernst visited and toured Performance Pipe located in Bloomfield, one of the county's largest employers. Performance Pipe products are used throughout the county, in everything from oil rigs to groundwater systems.
Senator Ernst touring Performance Pipe in Davis County.
Hearing from Iowans in Scott, Jackson, Clayton, and Butler Counties
Every summer, Davenport Parks and Recreation and Davenport Community Schools partner to utilize the U.S. Department of Agriculture's Summer Food Service Program to provide healthy meals to children in the area. Senator Ernst visited the "Summer Stepping Stones" program in Davenport to help serve breakfast and then joined the first graders for reading and activity time. ICYMI: Davenport was named number three on the Top 10 list of cities to produce AmeriCorps members this past year!
Senator Ernst participating in reading time with the first grade class.
In Jackson County, Senator Ernst met with local dairy farmers at Hingtgen Farms, a family-run dairy farm in Bellevue. Senator Ernst was able to see their work firsthand, and had a robust discussion about the need to pass the U.S.-Mexico-Canada Agreement (USMCA) to increase market access for Iowa's dairy exports. Click here to watch a recap of the Senator's visit to Hingtgen Farms.
Senator Ernst at Hingtgen Farms.
In Clayton County, Senator Ernst stopped at Kendrick Incorporated located in Edgewood. Senator Ernst dubbed the business as one of Iowa's "hidden gems," and was able to see their entire production process during her tour—from the sawmill to their home products division. Following her tour, Senator Ernst hosted a town hall meeting with Kendrick's employees, local leaders, and members of the media, where they discussed the impact of the ongoing trade negotiations and workforce development.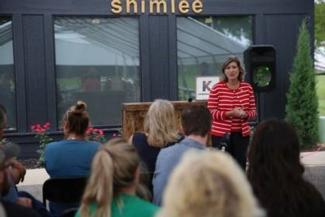 Senator Ernst during her town hall at Kendrick Products.
In Butler County, Senator Ernst hosted another town hall meeting to hear from folks in the area. In Parkersburg, she answered questions on trade, the cost of health care, and a number of other issues.
Senator Ernst visiting with Iowans in Butler County after her town hall meeting.
Helping Iowa's Business Community and Growing Workforce
Back in Des Moines, Senator Ernst spoke to the West Des Moines Chamber of Commerce about the work she's doing on behalf of the business community, including working to cut through regulatory red tape. Following the event, she toured two Iowa businesses in the area: Athene and Shazam to learn more about their work.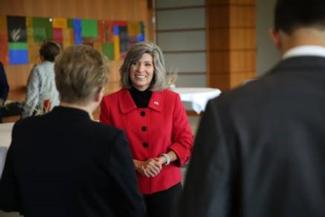 Senator Ernst at Athene in Des Moines.
Building on her efforts to help address some of Iowa's workforce challenges and continue to grow the state's small businesses, Senator Ernst hosted and chaired a Senate Small Business and Entrepreneurship Committee field hearing in Des Moines focused on efforts at the federal level and by Iowa's businesses, local employers, schools, and policymakers to address workforce challenges.
To watch Senator Ernst's opening remarks, click here or on the image above.
Witnesses at the field hearing included: Governor Kim Reynolds (R-IA), Owner and President of Geetings, Inc. Lana Pol, President of the Des Moines Area Community College Rob Denson, and Fareway Stores President and CEO Reynolds Cramer. To watch the hearing in full, including testimony by these witnesses and questioning by Senator Ernst, click here.
Hearing from Iowans in Polk County
Senator Ernst finished off the busy week with a town hall meeting in Iowa's most populated county, Polk County. As part of her 99 County Tour, Senator Ernst hosts public town hall meetings, like this one, across the state to hear from Iowans from all different areas and from all different backgrounds about the issues most important to them. During this town hall meeting, the senator and constituents dialogued on a number of topics, including health care, immigration, gun rights, and veterans issues. Senator Ernst is on track to have hosted a public event in every one of Iowa's 99 counties by the end of her first term.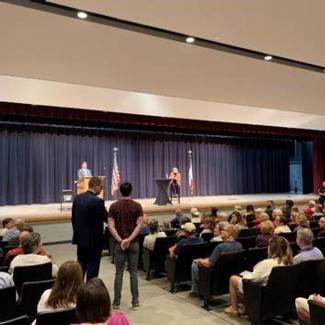 Senator Ernst answering a question at her Polk County town hall meeting.
Incentivizing Wind Energy Jobs and Development
Last week also marked American Wind Week. Senator Ernst, a champion for an all-of-the-above energy approach, introduced bipartisan legislation to help incentivize and promote the development of wind power and wind jobs in Iowa and across the nation. The Wind Workforce Modernization and Training Act would promote training opportunities for students, community colleges, and technical schools; facilitate the modernization of the current U.S. wind technician workforce; and create career pathways for veterans to more easily enter the wind workforce through the creation of a veterans-focused jobs program similar to the Solar Ready Vets program.
What They Are Saying:
Jay Byers, CEO of the Greater Des Moines Partnership: "The significant wind energy investments across Iowa have created a host of economic development opportunities, including high quality jobs. More than 9,000 Iowans are employed within the wind industry, including manufacturing, operations and maintenance, design and engineering professionals. More training will help more Iowans fill these jobs and we'll grow Iowa's renewable energy economy."
Tom Kiernan, CEO of the American Wind Energy Association: "Our diverse and rapidly growing U.S. wind workforce strengthens the economy, particularly in rural America. The Wind Workforce Modernization & Training Act of 2019 will ensure the next generation of wind workers have the necessary training and it will help U.S. veterans translate their unique skillsets into careers that further the energy security of our country. We applaud Sen. Ernst and Sen. King for introducing this legislation and we'll work hard with these leaders to make it into law."