Press Releases
"…it is a travesty that these women, who are pioneers in military aviation, had the honor of having their ashes inurned at Arlington National Cemetery revoked last year, during the same year that historically you opened up positions that had been previously closed in combat to women."
Mar

18

2016
WASHINGTON, D.C. – At a Senate Armed Services Committee hearing, U.S. Senator Joni Ernst (R-IA) pressed Defense Secretary Ash Carter on the need to restore the rights of Women Airforce Service Pilots (WASP) to be inurned at Arlington National Cemetery (ANC).
"Yesterday, I joined a bipartisan group of lawmakers to advocate for some incredible women, who really do deserve to be honored: they are the Women Airforce Service Pilots, otherwise known as WASPs.
"And Secretary—you know where I'm going with this—it is a travesty that these women, who are pioneers in military aviation, had the honor of having their ashes inurned at Arlington National Cemetery revoked last year, during the same year that historically you opened up positions that had been previously closed in combat to women.
"So I would like to see that addressed, and the Pentagon should do the right thing and honor these women by restoring their rights to have their ashes inurned at the National Cemetery. And it's my understanding that a waiver could be done for these women to do so. So I would encourage you to do so and I'd like to see that action taken. They are a part of America's greatest generation as well."
Click
here
or the image below to watch the video.
Senator Ernst's comments follow a bipartisan, bicameral press conference held this week to call on the Army to reinstate the WASPs at ANC. As the Iowa Senator noted, "Iowa was at one time or another, home to at least 25 courageous WASPs."
Click here or the image below to watch the video.
Senator Ernst's remarks begin at the 2:45 mark.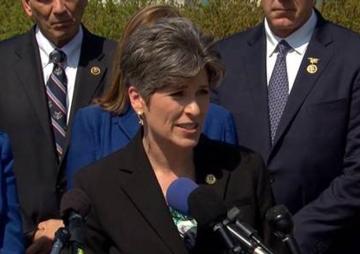 In January, Senator Ernst helped introduce bipartisan legislation to reinstate these inurnment rights. A recent policy change made by the Army now prevents WASPs, who flew domestic military missions during World War II, from being inurned at ANC.
ICYMI: Coverage from the WASP Press Conference:
KCCI-TV (VIDEO): "Iowa Senator Joni Ernst is fighting to allow women who served in the Women Airforce Service Pilots also known as WASPs into Arlington National Cemetery."
Yahoo News with Katie Couric (VIDEO): "They were known as WASPs, Women Airforce Service Pilots. During World War II, between 1942 and 1944, about 1,100 women volunteered to fly military planes here in the United States. Today, a new battle is being waged for these veterans of war. Despite the important role they played, the women pilots have never been awarded full Army status and therefore cannot be buried at Arlington National Cemetery. They were granted retroactive veteran status in 1977 but never received the full military benefits needed for the right to be interred at Arlington. A bipartisan group of lawmakers is looking to change that for good. Sen. Joni Ernst, R-Iowa, and Rep. Martha McSally, R-Ariz., are holding a press conference today to draw attention to legislation that would allow for WASPs to be interred at Arlington."
KCRG (VIDEO): "'I do think that it is ironic that the military is opening all avenues, combat roles for women, yet they're turning their backs on these women pioneers,' said Ernst."
KMTV-TV (VIDEO): "Senator Ernst said at least 25 Iowans served as WASPs including one, Madelyn Taylor Eggleston from her hometown of Red Oak."
The Hill: "'I was fortunate to have extraordinary trailblazers in these women,' said Sen. Joni Ernst (R-Iowa), a retired Army National Guard lieutenant colonel and the first female combat veteran in the Senate. 'We must move forward, and not backwards. And the Pentagon should do the right thing and join us in honoring these women and restore their right to have their ashes placed at Arlington National Cemetery with full honors,' said Ernst, an original bill co-sponsor."
Military Times: "Sen. Joni Ernst, R-Iowa — who with McSally is one of four Iraq War veterans in Congress — has offered similar legislation in the Senate. 'There is no doubt these women are heroes,' she said. 'The Pentagon should do the right thing and honor these women.'"
Roll Call: "McSally was joined by Sens. Joni Ernst, R-Iowa, who served in the Army Reserve and Iowa National Guard, and Amy Klobuchar, D-Minn. Also supporting the WASPs were Democrat Reps. Tulsi Gabbard of Hawaii, a member of the Hawaii National Guard and Loretta Sanchez of California, and Republican Reps. Bruce Poliquin of Maine, and Ryan Zinke of Montana, a navy officer."
###