Press Releases
Paid Family Leave
On Wednesday, Senator Ernst had the opportunity to sit down with Ivanka Trump and a number of her colleagues to discuss a path forward on paid family leave legislation.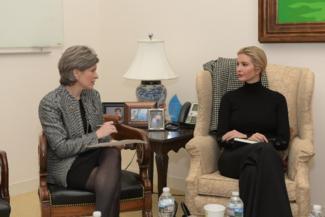 Senator Ernst and Ivanka Trump discussing paid family leave.
As a mom, Senator Ernst understands the importance of ensuring our policies reflect the evolving needs of our workforce; and that's why she's pushing for a budget-neutral, child-focused paid leave program, rather than a new entitlement or mandate. Ernst sat down with the Washington Examiner and joined WMAL Radio to discuss her proposal.
Council Bluffs and Cedar Rapids
This week, the Senate passed legislation that included Senators Ernst's and Grassley's language to allow for an underutilized trails center-- the Western Historic Trails Center (WHTC) in Council Bluffs—to be repurposed for public use or potentially developed. The senators worked closely with Council Bluffs community leaders and state officials to include their language into the 2019 Lands Package (S.47).
Securing the critical funding for the Cedar Rapids flood mitigation project was one of Senator Ernst's top priorities in 2018. Now that the project has received federal funding, her focus has shifted to oversight—making sure it stays on track. To monitor the project's progress, Senator Ernst included language in America's Water Infrastructure Act of 2018 requiring the Army Corps of Engineers to submit a report within 90 days of its enactment detailing the project's status. After that 90-day mark passed recently, she sent a letter to the Army Corps requesting an update as soon as possible. KWWL-TV covered the developments, explaining how Ernst has played a key role throughout this project.
#HomeState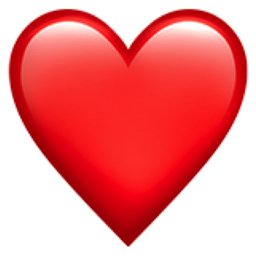 Since Valentine's Day was this past week, Senator Ernst organized an event on the floor where a number of her Senate GOP colleagues spoke about what they love about their states and initiatives they're working on to support communities back home. Senator Ernst highlighted a number of things that she loves about Iowa, including the spirit of working families, rural communities, small businesses, and veterans.
Click here or on the image above to watch the Senator's floor speech.
Border Security
The Senate passed compromise legislation this week to provide funding for border security and to complete the appropriations process to fund the government through fiscal year 2019. Senator Ernst supported the measure and released a statement in part saying this legislation is a key starting point that will allow the president to move forward on desperately needed border security efforts, including to curb illegal immigration and the flow of drugs into Iowa and the rest of the country.
This week, Senator Ernst spoke about the importance of getting her bill, Sarah's Law, finalized and signed into law. The legislation will require federal law enforcement to detain any illegal immigrant who kills or seriously injures another person. In addition, she joined Senators Chuck Grassley (R-IA) and Ben Sasse (R-NE) on a letter to William Barr, the new U.S. attorney general, urging him to prioritize review of Sarah's Law.
Communicating Priorities
###