Press Releases
WASHINGTON—U.S. Senator Joni Ernst (R-IA) highlighted a number of important items that she is working to include in a police reform package, like increased oversight and transparency of police departments that receive federal funding and a measure to close a loophole that allows law enforcement officers to claim that a sexual encounter with someone in their custody was consensual to avoid assault charges.
Ernst also noted that she has restarted her 99 County Tour for 2020 to hear directly from folks across Iowa who have been impacted by COVID-19, and to learn more about how the relief—like the Paycheck Protection Program—she helped provide has supported them during this pandemic.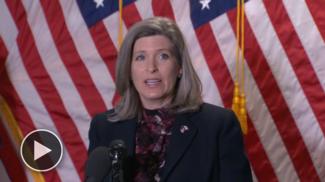 Click here or on the image above to watch Senator Ernst's remarks.
###