Press Releases
WASHINGTON—U.S. Senator Joni Ernst (R-IA), chairman of the Senate Agriculture Subcommittee on Energy and Rural Development, today spoke on her efforts to support Iowa's agriculture community, protect workers, and maintain a strong food supply chain. Ernst discussed a few items she is focused on—like working with Governor Kim Reynolds and federal partners to continue to make testing available, ensuring meat packing plants are adhering to safety guidelines, and getting our essential workers on the front lines of COVID-19 the support and benefits they deserve.
Ernst also noted that this week is National Hospital Week and thanked Iowa's health care providers from across the state for their hard work to care for Iowans during this pandemic.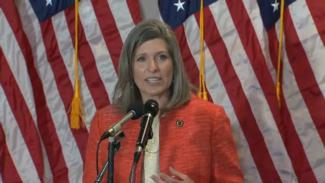 Click here or on the image above to watch Ernst's remarks.
###