Press Releases
" Today we put patients and doctors back in the driver's seat when it comes to their health care decision-making. This legislation provides critical relief from ObamaCare's individual and employer mandates and $1 trillion tax hike on Americans."
WASHINGTON, D.C. – U.S. Senator Joni Ernst (R-IA) today released the following statement after voting for final passage of the Restoring Americans' Health Care Freedom Reconciliation Act:
"Years ago, President Obama promised health insurance premiums would go down under ObamaCare. They haven't. In fact, Iowans looking for health care plans in the exchange are potentially facing more than a 12 percent increase in premiums.
"This poorly conceived and reckless law is rooted in a faulty, Washington knows best mentality. The result is numerous broken promises and too many families and businesses hurt by the painful effects of ObamaCare from rising costs, to losing access to doctors, to hampering businesses' abilities to hire new employees.
"Instead of empowering families and individuals to determine what they want and need in their health care plans, Washington has replaced choice with one-size-fits-all mandates and taxes. It's hurting jobs and stifling our economy.
"Today we put patients and doctors back in the driver's seat when it comes to their health care decision-making. This legislation provides critical relief from ObamaCare's individual and employer mandates and $1 trillion tax hike on Americans."
"I look forward to continuing to work to help Iowans achieve the patient-centered, affordable alternatives they deserve that enhance competition, increase flexibility, constrain rising costs and ensure folks have a voice over their own health care decisions."
"Finally, this legislation builds on the critical, bipartisan work my colleagues and I started by sending a bill to President Obama's desk that protects funding for women's health care by redirecting money from Planned Parenthood to other eligible entities like community health centers and hospitals. The footage depicting Planned Parenthood employees discussing in gruesome detail the organization's role in the harvesting of the organs of unborn babies is morally reprehensible and raises a number of questions that taxpayers deserve answers to. Taxpayers simply should not be forced to continue to fund the nation's largest abortion provider."
Click here or on the image below to watch Senator Ernst speak on the Restoring Americans' Health Care Freedom Reconciliation Act.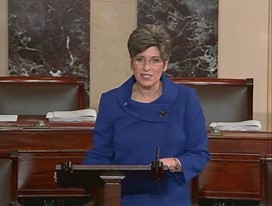 Senator Ernst is also a co-sponsor of legislation introduced by Sen. Ted Cruz (R-TX), which authorizes the full repeal of ObamaCare 180 days after enactment of the bill in order to allow a six-month window to replace it with quality solutions.
ObamaCare Aspects Repealed:
Individual mandate, which currently requires most individuals to purchase health insurance or face a penalty.
Employer mandate, which subjects employers to a tax penalty for failing to offer employees health insurance.
2.3 percent medical device tax that increases costs for consumers and hampers medical innovation and global competitiveness.
Existing health insurance tax and the impending Cadillac tax on certain high value health insurance plans that get passed onto consumers, driving up their out of pocket costs.
Restrictions on contributions to Flexible Spending Accounts and Health Savings Accounts and the limitations on their use to purchase over the counter drugs, empowering patients to take charge of their health care needs.
# # #