Press Releases
Making Washington Squeal
Senator Ernst continues to make Washington squeal! This week she outlined her newest effort, the End-of-Year Fiscal Responsibility Act.
One of Washington's most notorious traditions is the annual "use-it or lose-it" shopping spree by federal agencies. At the end of each fiscal year, federal agencies are required to return the money they have not spent to the Treasury Department. As a result, they are incentivized to spend needlessly in their last two months before the year's end. The result is billions of dollars of wasted taxpayer dollars that otherwise could be saved.
Click here or on the image above to watch the latest episode of Squeal TV.
Ernst's End-of-Year Fiscal Responsibility Act would put an end to this practice by limiting an agency's spending in the last two months of the fiscal year to no more than the average it spent per month during the preceding 10 months. Senator Ernst joined Stuart Varney on Fox Business to discuss her new bill. Click here or on the image below to watch her full interview.
Senator Ernst also penned an opinion editorial with Open the Books, the nonpartisan watchdog group who analyzes this annual "use-it or lose-it" shopping spree. In addition, The Washington Times and Ripon Advance both covered Ernst's latest squeal efforts.

Fighting for Trade Deals
Throughout her 99 County Tour stops last week, Senator Ernst consistently heard from Iowans about the issue of trade, specifically tariffs. While many commended the president for leading the fight for fair trade deals for farmers, they need to see agreements reached quickly, particularly the U.S.-Mexico-Canada Agreement (USMCA). Taking their voices to Washington, Senator Ernst called for trade deals to be wrapped up and the tariffs to be lifted.
Click here or on the image above to watch Senator Ernst call for the completion of trade deals.
In addition, Ernst joined Bloomberg TV to continue pressing House Democrats on the need to move forward with the ongoing trade negotiations, like the USMCA. She also discussed the impact of the 232 steel and aluminum tariffs and the importance of reaching a fair, good deal with China, very soon.
Click here or on the image above to watch Senator Ernst's interview.
Working for Flood Relief
Senator Ernst continues to fight for relief and support for her fellow Iowans impacted by the devastating floods. In addition to the Southwestern parts of the state, towns along the Mississippi River are starting to see flood waters rise, like in downtown Davenport. Senator Ernst spoke with KWQC about the need to get additional federal disaster assistance, beyond what FEMA is providing to folks in Iowa.
Click here on the image above to watch Ernst's interview with KWQC.
On Friday, Senator Ernst, along with her counterpart Senator Chuck Grassley (R-IA), sent a letter to the Army Corps of Engineers urging the Army Corps to immediately address the communication shortcomings brought to light during the recent flood event. Senator Ernst and her colleagues requested that the Corps begins providing weekly updates to all local levee sponsors in the Missouri River Basin throughout the duration of flood season. These updates are to include snowpack levels, river conditions, weather data, and other information that will help folks on the ground prepare for potential flood events.
Seven Town Halls in Two Weeks
In case you missed it, last Saturday, Senator Ernst completed her seventh open and public town hall meeting in just two weeks! She is on track to hold a public event in every one of Iowa's 99 counties by the end of her first term in office and has completed 32 stops of her annual 99 County Tour for 2019.
KTVO covered one of Senator Ernst's town halls in Jefferson County, reporting, "Ernst took the time to speak with the residents to see what issues mattered most to them. […] The senator encouraged the public to voice their issues one by one. […] Ernst says taking down names and personal stories helps when it comes to legislation because she has some reference to show other senators."
Senator Ernst takes questions at a town hall in Davenport, one of seven open and public town halls she held in the last two weeks.
Communicating Priorities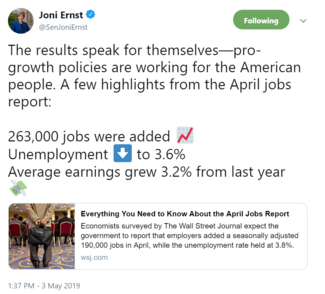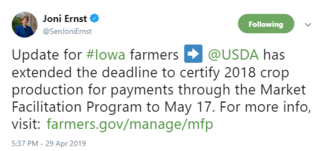 ###