Press Releases
Pushing for Properly Fitting Body Armor, Protective Equipment for Female Servicemembers
After working closely with soldiers and commanders of the U.S. service branches—including meetings with troops and military leaders in Kuwait and Afghanistan just last week—Senator Joni Ernst, the first female combat veteran elected to the Senate, is putting forward a commonsense, bipartisan proposal to ensure body armor and personal protective equipment (PPE) is adequate, properly-fitted, and readily available for female servicemembers.
Having served in combat and commanded troops during Operation Iraqi Freedom, and with her own daughter going through training right now at West Point, Senator Ernst understands just how important it is for all servicemembers to be properly equipped for the battlefield. The Washington Times covered Senator Ernst's efforts.
Click here or the image above to read the article in The Washington Times.
Calling on Congress to Support Our Men and Women in Uniform
On the heels of her recent bipartisan, bicameral Congressional delegation visit to Kuwait and Afghanistan, Senator Ernst once again called on Congress to support servicemembers and come together to pass the annual defense authorization bill, as well as defense funding for this next fiscal year.
Ernst outlined the importance of ensuring our servicemembers, like those she visited in the Middle East just last week, have the necessary resources to carry out their mission of protecting the homeland. The Senator said in part: "Our men and women overseas are serving our purpose abroad…now it's time for Congress to serve their purpose."
Click here or the image above to watch Senator Ernst's remarks.
Amping Up the Pressure on Speaker Pelosi to Move on USMCA
Following the one year anniversary of President Trump signing the United States-Mexico-Canada Agreement (USMCA), Senator Ernst, chairman of the Senate Agriculture Subcommittee on Energy and Rural Development, continued to call on Speaker Pelosi and her House colleagues to move on the trade agreement. On the Senate floor, she outlined the importance of this agreement for her home state of Iowa.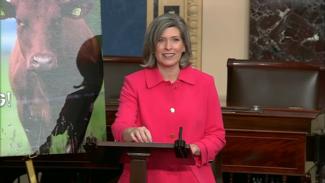 Click here or the image above to watch Senator Ernst's floor speech.
Social Media Highlights
Click here or the image above to watch Senator Ernst question military leaders on housing conditions for military families.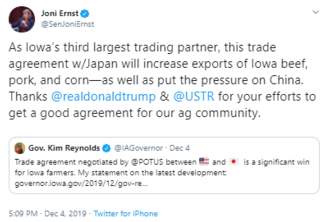 ###