Press Releases
"Senator Grassley is the epitome of the Iowa Way and he has faithfully upheld these values in the United States Senate. He is a workhorse and has dedicated his entire career to serving Iowans."
Nov

03

2015
WASHINGTON, D.C. – Today, U.S. Senator Joni Ernst took to the Senate floor to congratulate her friend and colleague Senator Chuck Grassley (R-IA) on casting his 12,000th vote as a United States Senator.
Click here or on the image below to watch.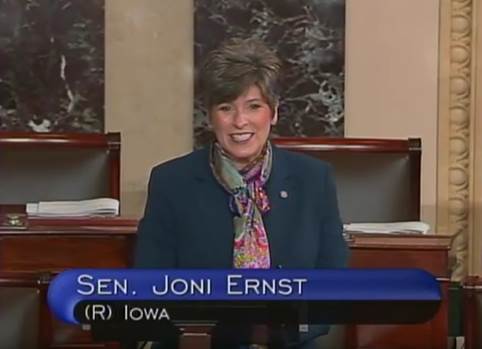 TRANSCRIPT
I rise today to congratulate my friend, colleague, and Iowa's outstanding senior Senator on casting his 12,000th vote today in the wee early hours of this last Friday morning.
In fact, there are only 17 other Senators in history who have cast more votes than Senator Chuck Grassley. On top of that, he has the longest existing voting streak in Congress.
This farmer from Iowa serves as the Chairman of the Senate Judiciary Committee and is one of the highest-ranking members in the United States Senate.
But that has not gone to his head – not for Chuck Grassley.
Back home in Iowa, he travels all 99 counties every single year and he has done this for 35 years – 35 wonderful years. And today, his travels across the state to all 99 counties have a name. It is called the "the Full Grassley," so that is something that our elected officials and even the presidential candidates that visit Iowa – it's something they try to complete as well. Senator Grassley has set a high bar and I'm very glad that he did.
Over the years, I've learned quite a bit about my friend, Senator Chuck Grassley.
His extremely thrifty ways and because he is extremely thrifty – of course he is always looking out for our taxpayer dollars.
He fights tirelessly for accountability and transparency in Washington.
And I can always count on Senator Grassley to stop by my office for donuts and coffee and to meet all of our wonderful Iowa constituents who happen to be visiting Washington, D.C. He says it's to visit the constituents, I really think it's for the free donuts – but, we are glad that he stops by.
Senator Grassley is the epitome of the Iowa Way and he has faithfully upheld these values in the United States Senate. He is a workhorse and has dedicated his entire career to serving Iowans.
Iowa has no greater friend than Senator Chuck Grassley. Congratulations Senator on your 12,000th vote. Congratulations to Barbara also. Get your Twitter ready, because at noon we're going to celebrate.
# # #